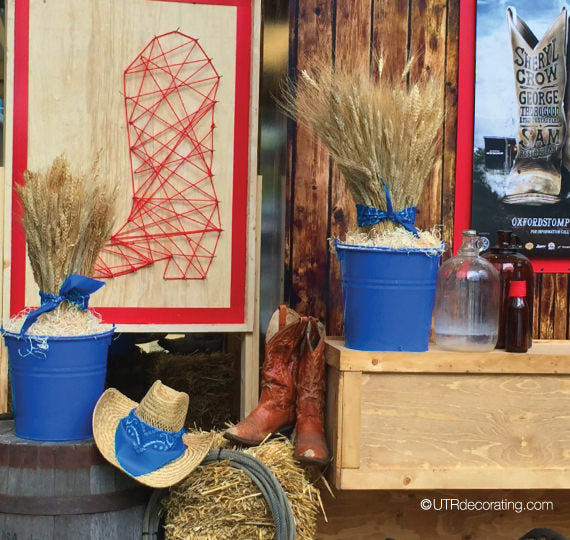 If your town puts on a rodeo or if you're hosting a western-themed party, you'll probably dress the part. Why not add some western decorating touches to the house too?
In our home city, the Calgary Stampede is a big event, and everyone gets into the spirit. Restaurants, shops and even offices decorate with hay bales, barn wood and painted windows.
This display in the lobby of Calgary's Devon Tower was so welcoming, it put me right into the Stampede mood. It's a real conversation piece and gives people ideas on how to bring some wild west atmosphere into their own home with items they already have. Leave a pair of cowboy boots and a cowboy hat by the front door and voilà, rodeo flair is in place.
I especially love the string art cowboy boot in this display. I might just try to make one of my own!
For more Stampede visuals, mosey on over to our Calgary Stampede Pinterest board.
See you at the rodeo,
Liette Tousignant
I'm passionate about picture hanging and decorating (and I'm also the
Co-Founder of Under The Roof Decorating