DIY picture frame makeover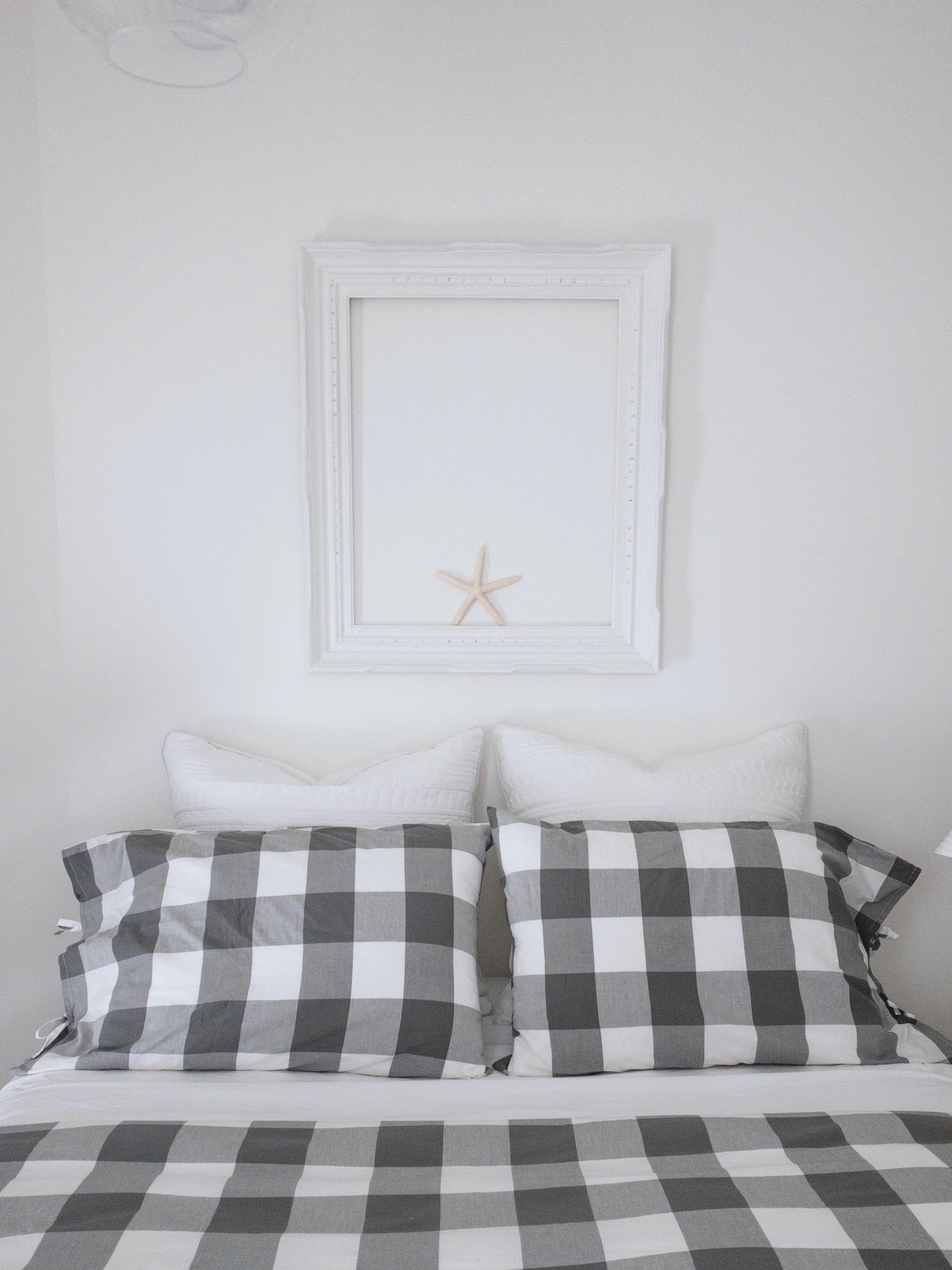 I love easy and inexpensive DIY projects that deliver big results. I bought this old picture frame at a garage sale, painted it all white and hung it above a queen size bed to create a headboard. It took only a few hours from start to finish to turn this plain Jane into a shabby chic frame perfectly suited for the cottage. Not bad for a total cost of $5. And by re-purposing somebody's else's old items, we are able to reduce the amount of things sent to the landfills. All it takes is a bit of time, paint and a few dollars to quickly transform someone's trash into treasure. *Written by Liette, Co-Founder of UTR.
This is the frame I started with, nothing fancy. Since one of my goals was to keep this project short, I didn't bother sanding the frame before painting it. I even painted the picture wire white, thinking it would look best painted when hanging.  
I used leftover paint we had from when we painted our baseboards during our cottage renovation. The finish didn't matter since the frame will sit on the wall without much wear and tear. Use whatever you have; if you don't have any paint, garage sales are a great place to get small quantity of leftover paint. When on site, open the paint can to make sure the paint is still good. Yes, paint goes bad.
I painted my frame outside under a covered area, which allowed it to dry very quickly. 

After one coat I could still see some of the brown coming through, so I gave it a second coat to get the white shabby chic look I was after.
When I bought the frame, I was planning to hang it horizontally above the bed. After testing the frame in both directions, I ended up liking the vertical look best. In addition to giving the illusion of a higher ceiling, it acted as a continuation of the stripes from the comforter cover to the wall which I quite liked.
Décor tip: When using a picture frame as a headboard, place your pillows exactly the way you would if you were making the bed, it will help determine the right hanging height for the frame.
Since I had my tools out, I decided to attach a sawtooth hook on both sides, horizontal and vertical. This way, if I decide to move the frame to another room and hang it horizontally, the hook will already be there.  Nope I'm not lazy, it's called "planning ahead" and since I'm known for changing up my décor quite frequently it made complete sense.
Warning:  When hanging something above a bed, always make sure to use the right hardware to safely secure it to the wall. I have this fear of things crashing down on someone's head in the middle of the night. That's one of the reasons why I only hang lightweight items above headboards like this empty frame with no art. I used one of our Déco Nails to hang my frame up.
Once my very white frame was hung, I felt that it looked a bit bare and washed out.
So I taped a starfish to the frame to add a touch of coastal feel and displayed another shell on the night table to echo that beach theme. Now, this cozy cottage bedroom is ready for guests.
Cheers to another successful low cost and effort, but high impact DIY project under my belt!
Tell me about some of the great stuff you've found at garage sales?
Liette Tousignant
Co-Founder of Under The Roof Decorating