DIY: Make Your Own Sharpie Art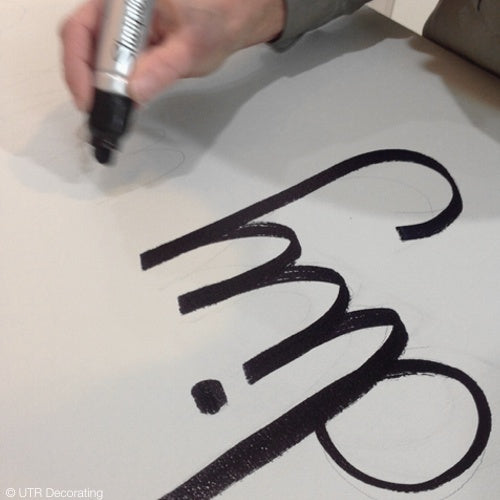 Wall art doesn't have to be expensive. In fact, you can make your own without spending much money at all, just like we did with this project. This DIY wall art is easy to make, incredibly inexpensive, and fun for kids to do on their own too.
Here's the step-by-step: 
Time: less than an hour
Cost: Less than $25 (the canvas was given to us, but they're easily available at art supply stores or at some dollar stores)
This is what you'll need:  
Canvas
Paint to match your wall color
Sawtooth hook
CenterFinder measuring tape
Pencil
Eraser
Black Sharpie (or the color of your choice)
Déco Hammer
Tools to hang it: we used our Hang & Level, a Déco Nail and two large Anchor Points
How we did it: 
The canvas was second hand, and it already had a design on it. We simply repainted it the same color as our walls so it would completely blend in and be seamless without any contrast with the walls. Let it dry completely before writing on it.
Canvases generally don't come with hardware attached, so we installed a sawtooth hook, which is super easy to do. Simply mark the center of the canvas with a pencil, line up the sawtooth with your mark and hammer the nails in.  The canvas was an inch wide and we installed the hardware in the middle.  Be careful — if you install the hook too close to the edges you might end up splitting the wood.
Now your creativity has to kick in and you need to decide what to write and what font to use.  Do some testing on a large piece a paper to get an idea of what your design will look like when you're done.
Tape your test paper on the wall where you'll be hanging your canvas.  I decided that the font should be a little bigger for the canvas, so I adjusted my design.
I lined up my test paper on my canvas to determine if or I'd center the writing or choose to be off-centered a bit. Once you're ready to move on to the canvas, write in pencil first. It's easy to erase if you make a mistake.
Using a magnum (oversized) Sharpie, I traced over my pencil outline. We chose to use black, but you could use any color of your choice. The ink dries quickly and looks great on canvas.
Ta-da! Your artwork is done.
We kept the writing on the canvas to a minimum to match the simple, peaceful and uncluttered space we created. We're very happy with the results.
Are you inspired to make your own art? Any ideas of what you'll make?
As always, if you have any questions regarding this project, email, tweet, or FB us as we'd love to help you!
Now to hang it:
I used Hang & Level to find the right placement for the canvas above my table desk.  Use Anchor Points to keep the canvas straight on the wall.
At Under The Roof Decorating, we make picture hanging easy. Our innovative products and helpful tips make it simple to hang almost anything wherever you want – and get it right the first time!