DIY Display for Magazines, Books or Pictures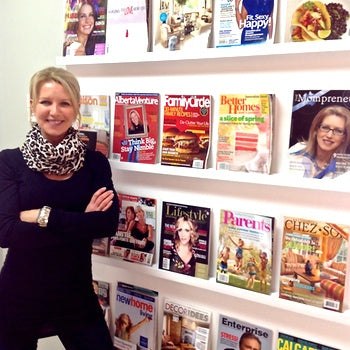 Do you have a collection of books, magazines or photos that you'd like to display? Suitable for an office, children's room or your living space, this simple DIY shelf might be just the solution you're looking for.
Over the years, Under the Roof Decorating and our products have been featured in many magazines. We're very proud of this recognition and instead of letting them pile up in a box, we wanted to display the magazines so that we could see them whenever we walked past.
We could have bought several ready-made shelves and attached each one to the wall, but we wanted a solution that didn't damage the walls unnecessarily, was flexible and customized specifically for our space. Here's what we came up with:
Time: a weekend project
Cost: $200
Dimensions: 8' tall by 4' wide (6 shelves that hold 30 regular size magazines)
This is what you'll need:
6 pieces of primed fiberboard molding, each measuring 4' long (with a groove to hold your magazines, books or frames)
4'X8' piece of pine plywood, 5/8" thick
primer and semi gloss white paint
a box of 1 1/2" screws
9 drywall plugs
measuring tape
mitre saw
drill
pencil
2-3 people
This is what we did:
We started by leaning the plywood, moldings and inspiration picture against the wall where it would hang when done. We wanted to be sure of the measurements before getting started.
Mike, our Design Director, held the molding in place so that I could determine the perfect spacing between each shelf. I tested the spacing with a magazine and a picture frame (that will eventually be displayed) and determined that 15" between shelves was perfect.
Next we cut the molding to the same width as the plywood —  4' lengths.
See the groove in the molding? This helps stand the magazines up straight, prevents warping and keeps them from sliding off the shelf.
We double-checked the spacing between the shelves by duct taping the molding to the plywood and resting a magazine on it, then drew lines every 15" across the plywood, continually checking to make sure that they were straight.
Next we placed the moldings onto the lines we drew to get a good visual before screwing them into place.
We placed the plywood on a 2'x4' to raise it off the floor and pre-drilled three holes along each line for the screws. Then we secured the shelves with screws from the back of the plywood so that they wouldn't show from the front.
Now we just needed to paint! We decided to paint our magazine display all white to create a neutral background for our colorful magazines. We started by sanding the edges of the plywood, then painted it in one coat of primer and two coats of paint.   To safely attach our custom magazine rack to the wall (we wouldn't want it to fall off and squash an unsuspecting visitor to our office) we used nine screws and their corresponding drywall plugs.
Before drilling the plywood, we marked the placement of the screws so that they would be covered by magazines. We placed three at the top, three in the middle and three at the bottom.
I'm very happy with the results. The magazine rack is a great focal point in our reception area and displays our prized magazines beautifully.
The thing I love most about this project is its flexibility. Our new magazine shelf can just as easily hold cookbooks, awards, children's story books or artwork. What would you put on this shelf? We'd love to hear your ideas in our comments!
At Under The Roof Decorating, we make picture hanging easy. Our innovative products and helpful tips make it simple to hang almost anything wherever you want – and get it right the first time! 
Reviews (1 comment)