DIY bulletin board from four repurposed corkboards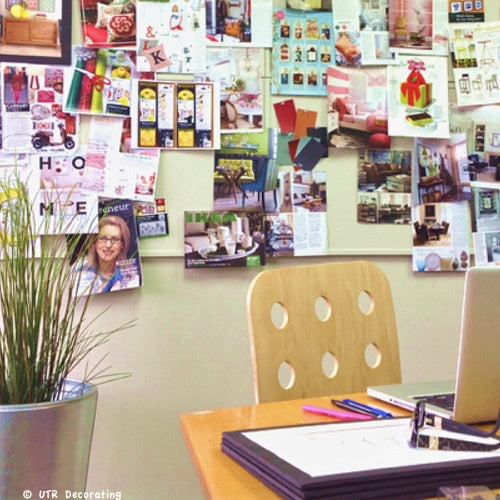 If you read this blog regularly, you'll recall that we recently moved offices. A move of any sort results in a list of jobs to be tackled and next up on ours was a bulletin board. I love my virtual Pinterest boards, but wanted something that I could look to for inspiration throughout the day, while covering some unsightly holes between my office and the neighboring boardroom.
I had a lot to display, so a large bulletin board was in order. I started looking for one to buy, then remembered that I had four cork boards, each measuring 35" x 22", that had been sitting in my garage for over a year. Here's how we transformed four plain cork boards into one large bulletin board:
Time: a couple hours plus drying time
This is what you'll need:
Paint (we used leftover paint from when we painted our office)
Drill & 16 screws
Measuring tape
Level
Cork boards (check garage sales or secondhand stores for used ones)
Push pins
This is what we did:
We started the project with some holes that needed covering and some old, slightly warped cork boards.
Since the cork boards weren't anything special, we decided to paint both the cork and the maple frames white so that they would blend in with the wall. We gave each board two coats of paint and set them over our plastic covered boardroom table to dry.
Once they were dry, we decided on the exact placement, used a level to ensure that the first board was straight, then attached it to the wall with four screws (one in each corner).
Next we sandwiched the remaining three boards right up to one-another, checking the level along the way and attached them to the wall with four more screws on each. We hung the boards top left, top right, bottom left, then bottom right.
Lovely. Now to get pinning! I had a pile of magazines clippings, articles, fabric, paint swatches, ribbon and various products that needed a home. I decided to use clear push pins so as not to distract from the images. Once it's covered, you can't even tell that my huge bulletin board is actually four old cork boards that have been given a new life.
In this day of social media and virtual bulletin boards, I'm proud to have my bulletin board always up to enjoy.  Just think where you could use a bulletin board like this: a child's room, your kitchen, entrance, home office.
The possibilities are endless. Do you have a bulletin board? If so, let us know in our comments where you've hung it and how it helps you stay organized and inspired.
Happy pinning!
Liette Tousignant
Co-Founder of Under The Roof Decorating