Desk Makeover: Giving New Life to Old Furniture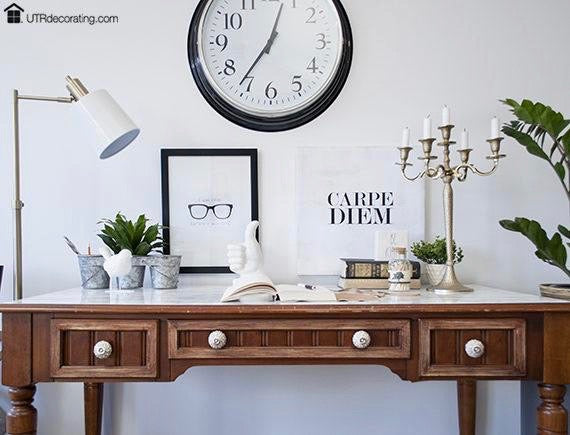 Have you ever bought a piece of furniture that you didn't know what to do with, but you just couldn't say goodbye to? That's the story with this desk… we've had it since the early days of starting our company, Under The Roof Decorating. Although it's all scratched up, and damaged, we've never wanted to part with it because it's part of our story. So, we decided to give it a makeover, and we're so glad we did because we've fallen in love with it all over again.
It has survived being bumped around in moving trucks and visibly shows its age with the dings and scratches caused by several people working on it. 
Despite how old it is, its 3 drawers make it super functional and it's the perfect size, too. To put it simply – we love it! Read on to see what we did to fall in love with it even more.
Directions & Tips:
We covered the surface with marble contact paper to hide all the scratches
We followed the directions with the marble paper (some contact papers are slightly different)
Don't do too large of a surface area to start – get your practice in by starting small
Make sure to buy enough paper for the surface you want to cover (the packaging should give you this info)
It's very simple – a one person job!
Once the desk was covered with our faux marble – wow! It instantly changed the look. We're so relieved we never gave it the boot, because it now looks so chic!
Now for the rest of the desk. To get the industrial chic look we wanted, we used a 100% natural pumice stone (used to clean BBQs) – it's chunky, has a good grip (versus thin sandpaper) and it worked extremely well to get the perfect distressed look.
Directions & tips to distress without stress:
Try an inconspicuous spot to start so you can get the feel of it
Start gently
A little goes a long way. We did the outline of the drawers, which was just the right amount.
Warning: you'll end up with fine dust, so have the vacuum cleaner close by to clean as you go. I used a Swiffer dry sheet to wipe the desk as I was distressing and cleaned the whole floor with Swiffer mop. P.S. this is not a Swiffer endorsement – we just like the product!
Once the distressing was done, we felt we needed  to jazz up the desk a bit more, so in came the ornate knobs.
When shopping, we had a picture of the desk and one of the original knobs (make sure to get knobs that are similar in size, or make sure the screws going into the drawers are the same size so they can be screwed in tight).
We found 4 different styles that we liked and bought them all cause we had to see them in action to decide! We simply returned the ones that didn't work.
Tip: It was easier to decide on which knobs to use once our frames were hung and we had accessorized the desk. The choice was clear. Can you guess which one we chose? Although they're all gorgeous, we chose the one on the left, because it tied in nicely with the cowhide, the faux marble contact paper and brass accessories. I think in the long run, it's the most versatile one, too. It will fit with any accessory we display on the desk or wall décor.
We hung a couple of frames and of course a big clock – after all it's an office. If you want to see how we hung each item, click here – you'll see all the details and tips to avoid making a bunch of mistake holes.
We added some of our favorite desk accessories and ta da! We were done. Don't you love plants and what they do to a space? They add style, texture and life.
This is one of those DIY projects that didn't require much time or money and we absolutely LOVE the results. It's such a rewarding feeling when you've done a successful DIY, too.
The lesson here… don't be too quick to get rid of your old stuff! Besides, what's old can be new again. With a bit of elbow grease and a few bucks, you can create brand new work space that is chic and functional.
Check out this link for more design tips on this office look.
As always, we'd love your feedback. Let us know what you think in the comment box below. 
Thanks for dropping by!