Designer walls on a garage sale budget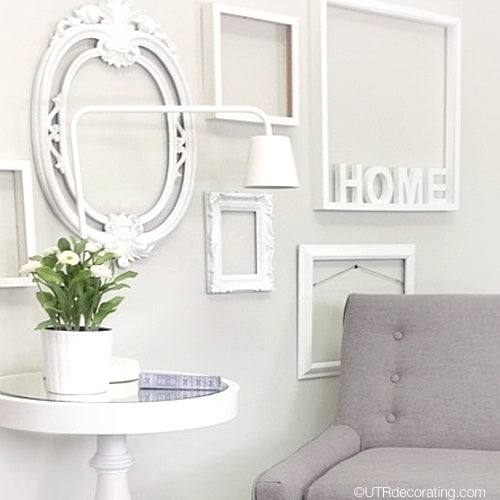 Empty frames are such a creative and chic way to dress up your walls, all without spending any money on actual artwork. Once the frames are painted they become art themselves — think of it as instant Wall Art.
Our goal was to create a fresh summer look for a reading nook, with a dash of fun and cheer. We kept the background neutral and jazzed up the look with a black and white polka dot carpet and added a grey comfy chair to anchor the whole look.
Here's what we did:
We picked up mismatched frames at a garage sale, including a mirror. We took the glass out of the mirror and used only the curvy frame to add interest to the wall display. From there, we spray painted all the frames in a flat white to create a cohesive look and calming feeling.
Next, we placed the furniture and then anchored the frames close to the furniture arrangement. Hanging them higher would not have given us the quaint cozy look we were after. No measuring was needed, we left enough wall space between frames to keep the look nice and fresh. Arranging your frames on the floor to determine the right placement is a great way to figure out where to position each frame.
I love the final results. It's exactly the fresh summer designer look I was going for without the big price tag.  Decorating with empty frames is so versatile — you can decorate the walls in a hallway, home office, staircase, or bedroom, the possibilities are endless. My advice is to have fun with it, be bold and try bright colors for the summer.
Here's how we hung the frames: (See the video here)
Start with the frame beside the back of the chair to determine the height for the entire wall display.
Next, hang the larger frame above it.
Move on to the small ornate frame, followed by the square frame above it.
The oval medallion is next, and finally the small square frame.
We hung the "HOME" letters inside the large frame to fill some of the wall space.
Source and budget:
The mismatched frames were bought at a garage sale for a few bucks
One can of spray paint for $3
The carpet and lamp are from IKEA, we already owned those
The round table ($149.99) and chair ($199.99) were bought at HomeSense
Make sure to sign up to receive our blog posts so you can have them delivered straight to your inbox.
Liette Tousignant