Decorating With What You Have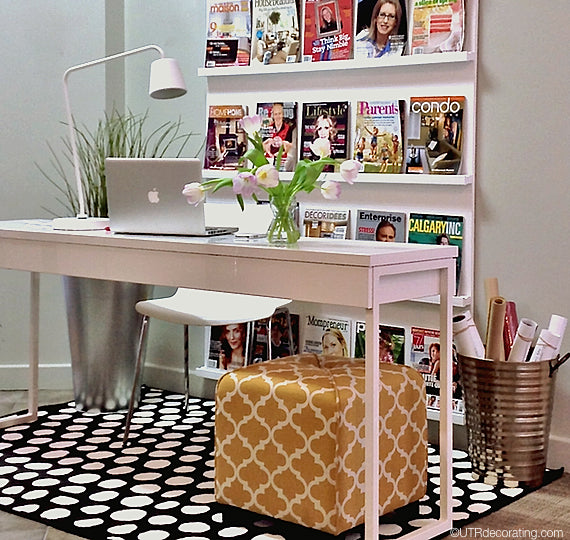 Sometimes a little change is all you need. Check out the following three pictures to see how we completely changed the look and functionality of our space by simply rearranging furniture we already had.
The focal point is a clean, modern magazine shelf that we recently built. It sits just inside the front double doors of the office and is flooded with beautiful daylight.
Look #1:
We wanted somewhere to perch for impromptu chats away from our desks or to enjoy a cup of coffee. By adding two bright yellow ottomans in front of our display, a fun polkadot area rug and some greenery we created a cheerful space for a break.
Look #2:
Our Under the Roof Decorating family is growing and our extra people need places to work. An office doesn't necessarily require four walls, but it does need a desk and some storage. This workspace is part of our reception area so it needed to be clean and presentable. We opted for a long, narrow desk fitted with two large drawers, a white filing cabinet (that blends in nicely with the desk), a table lamp and of course some flowers to welcome its new owner. The space is comfortable, uncluttered and bright.
Look #3:
Some people crave privacy while working and others thrive on action. By simply turning the desk to face outward we have a completely different look and functionality. The desk's occupant is now available to welcome couriers and visitors to the office, enjoy the view and bask in the sunlight.
Which do you prefer?
Rearranging your furniture is a simple way to change the way you see and use your space. Which of our looks appeal to you the most? Are you planning on rearranging any of your rooms? If so, Tweet, Facebook or email us, we'd love to see what you're up to!
Make sure to sign up to receive our blog posts so you can have them delivered straight to your inbox.
Liette Tousignant
I'm passionate about picture hanging and wall decorating (and I'm also the Co-Founder of Under The Roof Decorating)