Decorating with plates – from the dining table to the walls!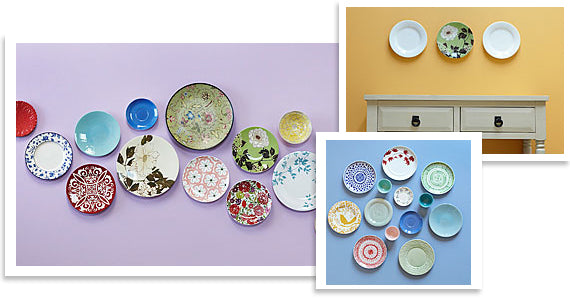 Most of us don't usually think of plates as pieces of artwork but if you have cupboards filled with antique plates you've inherited, masterpieces ceramic plates done by the kids, or survivors of a set that lost of few pieces this is a great way to showcase them in your home or at the cottage. We saw this décor idea in a mini booklet by
Home Made Simple
inserted in the April issue of
O magazine. 
We love how fresh and springy the pretty plates looked against the lilac, blue and yellow backgrounds.
As for displaying them on your wall, hang them randomly, in a straight line or clustered around a large piece of art already hanging on the wall.   A trick that works really well is to build the look on the floor to help you determine the best possible arrangement before hanging them on the wall.  You'll be amazed how well this works.
When choosing the right hanging hardware for your plates, consider their size, shape, weight, fragility, and wall surface. Here's a site showing all the different hardware options available http://www.smarter.com/se–qq-wall%2Bplate%2Bhangers.html.