How to hang pictures above a fireplace mantel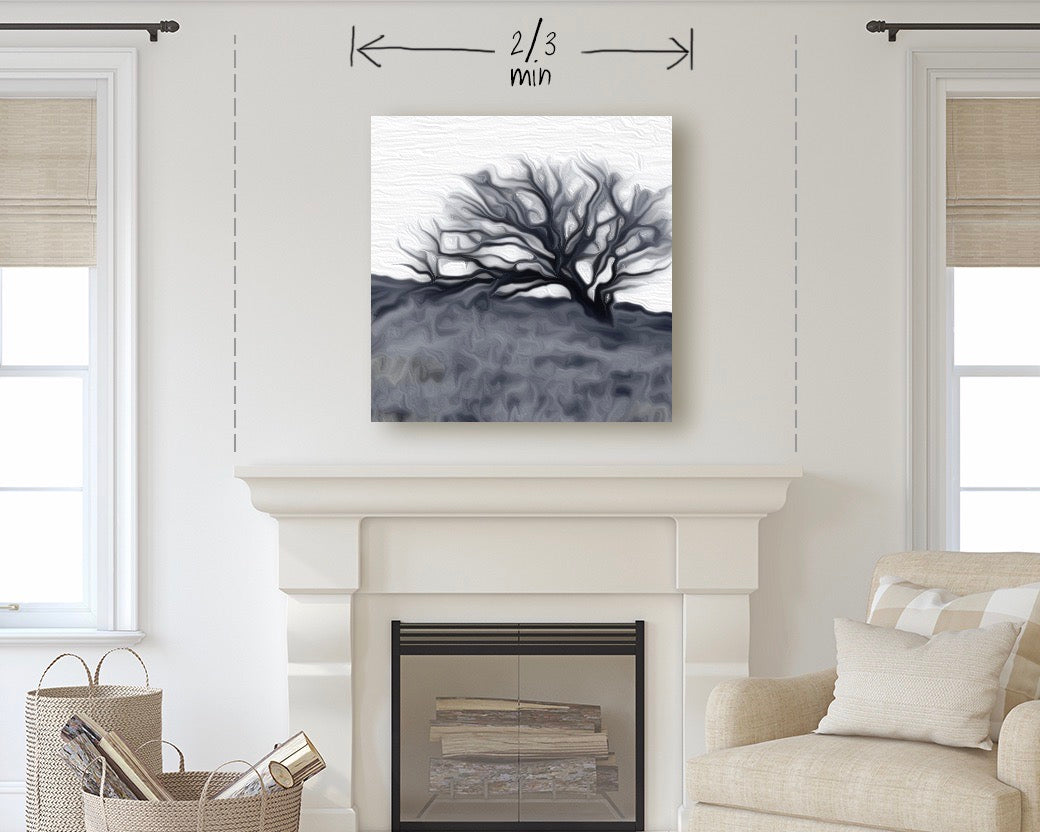 A fireplace is often a focal point in a room and an area where you spend lots of time with family and friends, so it can feel intimidating to decorate. We can help! Whether you are hanging a single accent piece or want to create a stunning gallery we have some helpful tips and tools for quick, easy and mistake free picture hanging.
Pick the right size art
Art is a personal choice and we encourage you to hang what you love. To create a balanced look between the art and fireplace, you'll need the right size of décor. Select a single item or group of pieces that fill at least ⅔ of the width of the mantel. Finding the perfect art can be a lot of fun to explore; just let your creativity flow. Below are two examples of using multiple pieces to decorate.
How high to hang your art
Typically, you hang the bottom of your piece(s) 4" to 6" above the mantel to keep the artwork and mantel visually connected. You can increase or decrease this gap depending on the type of accessories you want to display on the mantel. It's always a good idea to collect those items before you hang your pictures, so you can see how they'll all work together.
How to space your artwork 
Combining pieces together can be a fun and creative way to express yourself. Generally, it's a good idea to leave 2" to 5" in between each frame so the eye easily travels from one image to the next. Hanging frames too far apart will look like you are trying to fill the wall instead of telling a story with the art.
Once you have settled on a look, you are ready to hang your items. With the right tools, you can get those pictures securely hung, in minutes, without any mistake holes.
The best way to hang canvas
We designed CanvasHangers™ to make it quick and easy to securely hang canvas of any size into drywall. Install a bracket onto the top two corners of the canvas using a hammer. Place the canvas where you want to hang it. Push the canvas into the wall. Place. Push. Done! The canvas sits flush to the wall for a professional look. Check out these tips for hanging canvas art. 
If you are hanging more than one canvas, you can visually hang additional pieces accurately and quickly using CanvasHangers. If you want a little more precision, then use DécoEssentials™ - they have a mini level and SpacingStrips™ to help level and align each item. Watch the video below to see how to use DécoEssentials with canvases, and this video to see how to use them with frames. 
Hang a gallery quickly and professionally 
If you have chosen to hang a gallery of frames above your fireplace, we have the perfect picture hanging tool and hardware kit for you. With the right tools you can hang your pieces accurately without measuring or making mistake holes. Use Hang & Level™ to mark exactly where to put the fastener. Then select a nail, hook or screw from the Right Tools To Hang Stuff™ kit depending on the weight of your items, and install it directly into the mark. The patented head shape holds your items securely. Simply repeat the process to hang the remaining pieces. Check out this blog to learn how to hang the perfect gallery wall. 
We love designing products to make decorating easy. Click on the live chat below or email us at: questions@utrdecorating.com, and we'll do our best to help you Create the home you love™.

-The UTR Team