Deck decorating ideas – enjoy outdoor living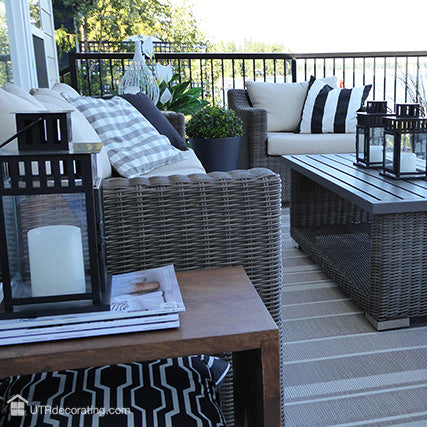 When we're at our cottage, we literally live outside. Rain or shine we eat and entertain outside because that's what cottaging is all about. Since our deck is the most used room in the house (or out), my husband and I decided it was time to invest in new patio furniture. We've had our existing furnishings for over 17 years and it was really starting to show its age. The cushions' padding looked squished and flat and the table and chairs were quite weathered, but not in a good way. Now that the mini makeover is done, we're so thrilled with the results that I thought I'd share a few tips in case you too are planning a deck-orating makeover.
I started my deck restyling project in early spring, as soon as retailers had their summer furniture out. I wanted to be sure there would be a great selection available. Just to be clear, we didn't do any structural changes to the deck, we only prettied it up with outdoor furniture.
Here's what I started with in March – a deck covered with pine needles and pinecones.
Before
Ta-da! Here's my deck all done up. You can't really tell from the picture but the deck is quite large. There's 600 square feet off the living room (seen in the picture) and another 300 square feet off the kitchen (which we don't see).
After
Creating zones on the deck 
Because there's lots of room, I've divided the space into three zones: the cooking/BBQ area, the dining space, and the lounging (living) area – my favourite. In this article I'm showing only the outdoor living room because I'm still working on the other zones, which I'll feature in an upcoming blog post.
One of the easiest ways to define zones is with a rug, which I've done here to separate the living from the dining spaces. Without the rug, the furniture seemed to be floating on the deck instead of being connected to form a conversation area.
Shopping for outdoor furniture 
My top priority was to get outdoor furniture with a low back to avoid covering the beautiful view of the lake we have from inside the cottage. The wall beneath the picture window is two feet tall, so I looked for couches and chairs that were not much higher than that.
Lots of seating needed
We entertain a lot so having lots of sitting space is important. I ended up buying the Fulton Ridge 5 piece set (1 large couch, 2 chairs and coffee table) at Lowe's. It met all my requirements, including the price. By the way – this is not a sponsored post. I'm just happy to share my source
Placing the furniture was strategic – it was all about capturing the view of the lake. I placed the rug first, centering it with the large picture window. I then placed the couch, also centered with the window, with the front legs on the rug. Next the two chairs, corner to each other. The coffee table sits in the middle, with side tables on either end of the sofa. The black and white pouf and slim wicker chair complete the conversation area. Eight people can sit very comfortably; when more seating is needed, I pull the dining chairs in (not shown). The small table/bench on the left is also used as an extra seat when needed.
Although the pouf is not covered with outdoor fabric, I leave it outside most of the time – I just bring it in when it threatens to rain. It's another comfy spot to sit or to rest tired feet. 
Since it gets super hot on the deck, I preferred light colored fabric cushions (cream) over darker ones. They don't attract heat as much, they look fresh and they also go very well with the taupe cottage siding. I don't worry about spills because outdoor fabric is so easy to wipe clean. I added pops of color with throw pillows.
Cozy up with throw blankets 
Some evenings can be quite cool especially when it's windy, so having a basket filled with throws keep us and guests warm. They're also great to cover up with when pesky mosquitoes are out. I must say they add coziness to the space which makes you want to bundle up and spend even more time outside.
Plants: fresh vs faux
Although I'd love to have fresh plants and flowers, all the ones on my deck are faux. The deck is in the sun from early morning till late afternoon and with the heat, fresh plants would need to be watered every day. Since I'm not at the cottage on a permanent basis, it didn't make sense to invest in real plants. That said, I still wanted some greenery so I went for faux which works just fine. I must admit that I like that they require zero maintenance, and will live forever. In my mind that's a good long term investment.
Outdoor lighting
In order to create the perfect night ambience without blocking the view or attracting mosquitoes, I used a combination of different lighting and spread it out around the deck. I have a mix of lanterns with real candles, some battery operated candles, solar lamps and strings of plug-in looped lights on the railing. A warning about using real candles – they can melt in the hot sun, and you must keep an eye on them on windy evenings. All the lighting is on table top surfaces or directly on the deck, with nothing hanging above our heads. It's like having dimmed lights without lights on the deck.
Bringing the furniture home: how big is your truck?
Have you ever noticed how furniture in the stores doesn't look as big as it actually is? You truly find out about its "real" size when loading it in your truck (or utility trailer, if you have one). Since I bought a five-piece patio set, I asked about having it delivered but because the cottage is far from the city centre, the delivery service was not available. We ended up doing two trips, one with the chairs and coffee table, another trip with the couch – which was sticking out of the truck. It's fairly large; 90-in W x 31-in D x 29-in H. 
There's also lots of cushions for the seats and back rests. Think twice before unpacking everything and make sure you're 100% sure what you bought is exactly what you wanted, because repacking everything to return it would be an absolute nightmare. 
Leaving furniture and accessories outside
When it rains or when we're away from the cottage for a few days, we bring all the cushions and accessories inside. It seems like a lot of work but it truly isn't once you get a routine/system figured out.
Our house in the city has a tiny backyard with no grass, only paving stones. It sits on a busy street so it can be loud at times. So when we go to the cottage, we make the most out of our time there by truly enjoying the outdoors. Eating outside is one of our favourite thing to do, so investing in good quality functional furniture was definitely worth the investment.
Now I'm ready to kick back, relax and enjoy the view from this great summer deck.
What are your must-haves for a deck? Please share in the comment box below.
Thanks for dropping by and have a great summer.
Liette Tousignant
Co-Founder of Under The Roof Decorating
Make sure to sign up to receive our decor and design blog posts delivered straight to your inbox.