Crazy about flamingos – a new décor trend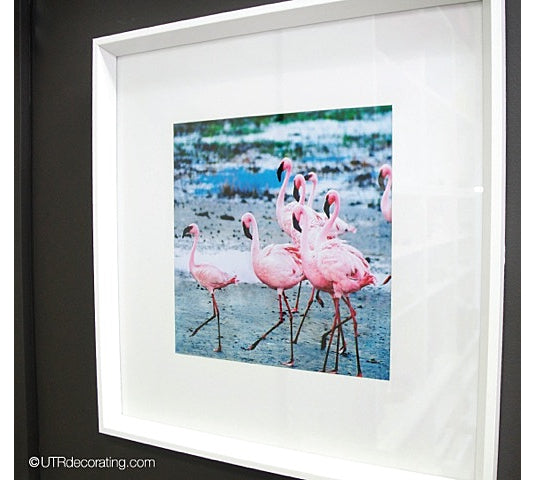 Flamingos are trendy? Really? Who knew?  If you've flipped through any décor magazines lately you've most likely spotted pictures of the long legged bird on furniture, cushions and other accessories for the home.  And, if you didn't know about this new trend, going forward you'll certainly notice it.
After noticing images of flamingos on Pinterest, Instagram and on various blogs, it inspired me to make my very own art to embrace the flamingo décor trend. I chose this photo because it looks like the flamingos are simply out for a walk on the beach and I love the close up of their long skinny legs, tall necks and their pretty pink feathers. *Photo credit for the Flamingos: Mona Csada.
I chose a large white IKEA frame and mat to brighten up my dark painted wall, and the large mat helps accentuate the focus on the image.  The combination of the white, pink and blue water is fresh, summery and adds a touch of tropical beachy feel to my walls which is perfect for the summer months.
I ended up hanging my trendy flamingo art in the master bathroom at the cottage where it fits perfectly into the beach atmosphere. 
By the way, do you know why flamingos are pink?  They're pink because of their diet which consists mainly of shrimp and algae.  True fact, it's all here in this video.
Here's more flamingo inspiration for your home.  Enjoy!
Fancy and quirky flamingo dinner and side plate set by Yvonne Ellen, sold on Etsy.
Funky wallpaper featuring extravagant pink flamingos by Wallpaperdirect.com
Chic living-room and flamingo wall art by designer Melissa Johnson.
What do you think of the flamingo décor trend?  Will you embrace it or ignore it?
Liette Tousignant
Co-Founder of Under The Roof Decorating