Chic multi-purpose wall calendar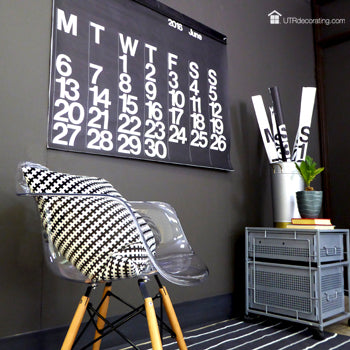 Decorating your walls doesn't have to be expensive. In fact, with a bit of creativity you can get a designer look without a designer price tag. This is exactly what I did by displaying an over-sized calendar that plays double duty: it keeps track of my schedule and acts as a piece of modern art on my walls. This is the kind of calendar you don't want to hide, au contraire, you want to show it off because it's so chic.
I must confess my love for the Stendig calendar and no, this is not a blog post sponsored by Stendig. This calendar is a classic. It will always be on trend, which explains why it's been around for almost 50 years.  It was designed in 1967 by Massimo Vignelli and has been part of the Museum of Modern Art in New York ever since.
Another reason to love this calendar is because it's big, 3 feet by 4 feet, and will cover up a large blank wall if needed. Its giant block numbers are easy to see from a distance, and there's no need to squint or to reach for glasses which is perfect for me.
As I tear off the month of May, notice how each month's background alternates between black and white.  May was in white, June is in black, back in white for July; you get the idea. It's a simple feature but yet so cool. It feels like your walls get a mini-makeover every month. 
Each month, I carefully tear off the old page. I roll it up (width wise) and secure it with a piece of tape – not an elastic band as it would leave a mark on the paper.
I display the rolled up months in a vintage tin bucket until I'm ready to use the calendar pages to wrap presents at Christmas. Since the pages are quite large, they're perfect for wrapping gifts of any size and shape.
There you go, an affordable multi-use calendar that is art for your walls, great décor accessory and funky gift wrap. I call this smart decorating. If you're looking for more inspiration on how to decorate with Stendig calendars, have a look at this link. And just in case you wonder, I paid $65 CAD plus shipping for the calendar and I bought it from Arrow,
Hello June, hello summer!
Liette Tousignant
Co-Founder of Under The Roof Decorating
Reviews (1 comment)