Cheap Chic: DIY Wall Display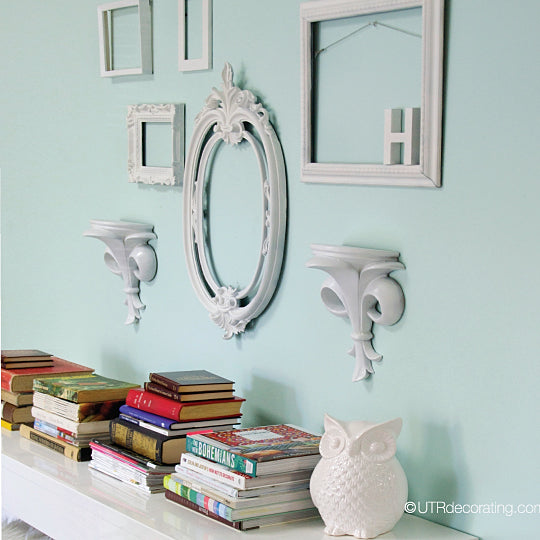 Art doesn't have to be expensive. You can make your own one-of-a-kind pieces just like I did in this easy DIY wall display. The best part is that you can customize your art to fit your style, décor and most importantly your budget.
I recently painted my wall with this beautiful Antiguan Sky green by Benjamin Moore and decided on all white gallery to create a nice crisp summer look. Since I only had a couple of white frames, I stopped by a few garage sales to buy additional treasures that I could spray paint white. I'm always amazed by how quickly you can change the look of an object simply by painting it.
Here's how the wall sconces looked before getting their makeover. They were goldish brown with spots of rust and all scratched up. Within an hour and a few mists of spray paint, they were transformed into these stylish brackets ready to be displayed on the wall.
Even without pictures or glass, frames can become art for the wall. It's a thrifty way to decorate until you're ready to invest in a piece of art.
This DIY art project is very versatile; you can easily add to it. Insert kids' art inside the frames and simply use washi tape or painter's tape to hold it up. Or, hang a faux animal head to add a three dimension element to your display and a bit of whimsy to the gallery. You can also hang an oversized clock for fun and of course to track time.
This white budget friendly gallery is the perfect background for my library table. Since the books and magazines are visually heavy, the light wall arrangement keeps the look fresh and balanced.
Below is the the order I followed for hanging my frames. For an eclectic arrangement like this, it's always best to start with a larger, central piece and move out from there. Although I pretty much eyeballed everything, I used Hang & Level a couple of times to make sure I hung the frames exactly where I wanted them. To help plan out your arrangement, it might help to lay it out on the floor first.
If you'd like to see how it came together, take a look at this short video:
Do you have any DIY projects planned this summer?
Liette Tousignant
Co-Founder of Under The Roof Decorating