Canada Day red and white centerpiece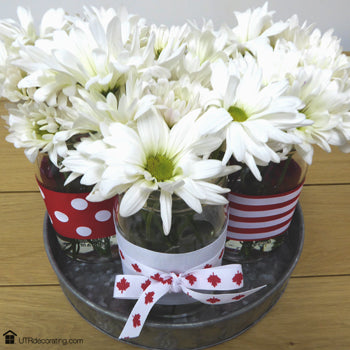 This easy and simple DIY centrepiece is the perfect last minute project to add a festive touch to any Canada Day celebrations. Display it either indoor or outdoor to give your table an instant pop of patriotic red and white flair. 
A little goes a long way, this is all you need to create this stylish flower arrangement:
Mason jars X 3, Pretty ribbons, glue gun, scissors and fresh flowers.
Getting started:
Cut a strip of ribbon to wrap around each jar. No need for a big overlap just enough to glue the top part over the bottom one. Good sharp scissors really help because a straight cut looks best, even if it's hiding on the back of the jars.
Don't glue the ribbon to the jar, you want to be able to move it up and down the jar when finalizing your display.
Ironically, cutting the flowers is what took the longest. Make sure to measure twice and cut once because once the stems are cut, that's it!
Cut taller flowers to place in the middle with smaller ones around to create a nice full bouquet. Get enough flowers to get a full arrangement for each jar.
I used all white daisies because they're so versatile, fit in any décor and because they simply scream "summer".
That's it! You're done! When displaying your mason jars, make sure all the seams face the back to get a flawless look. I displayed my red and white trio in a row on a wood dining table which looked very sharp. The glass jars, wood surface and fresh flowers give the centrepiece a fresh organic look. They also look beautiful when grouped together in a metal tray. The metal adds a touch of vintage country chic to the table, and makes it easy to transport your arrangement around the house.
Another reason to use all white flowers is that they don't take the attention away from the pretty ribbon. I wanted red and white ribbon to be the focal point of the centrepiece.
As you can see I didn't go overboard with Canadian flags, sometimes all is needed is the use of colors to inject a little subtle patriotism into your décor. I hope this simple project inspires you to create your own!
Happy 150th birthday Canada!
How are you planning to celebrate Canada Day? We'd love to hear from you, share your plans in the comment box below.
Thanks for stopping by! Talk to you soon,