2019 Spring Design Trends: 7 Décor Trends We're Loving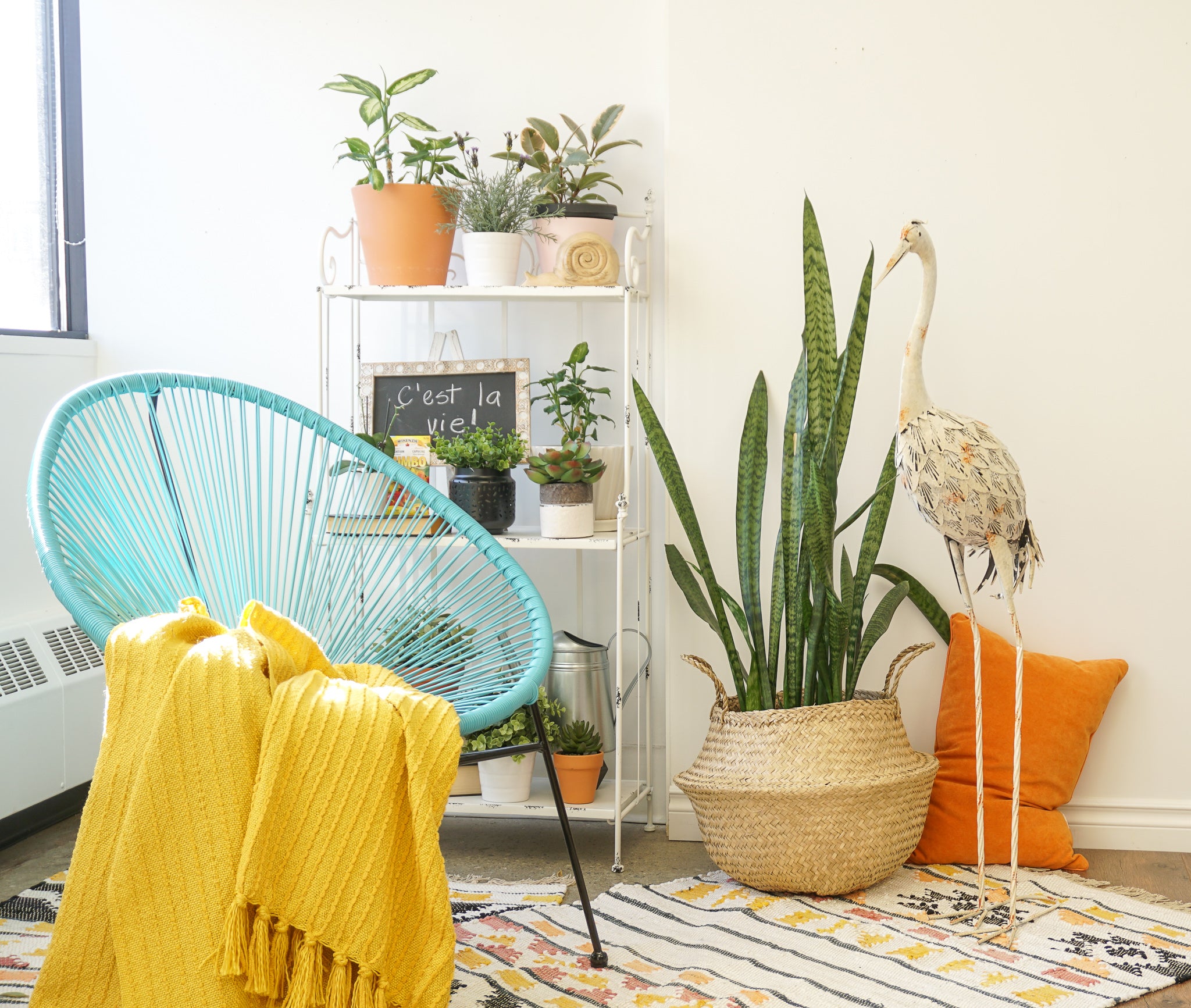 As soon as Spring rolls around, we get antsy to discover what's fresh and new in home décor. Out of this year's trends, we've completely fallen in love with 7 of them; including baskets, the color yellow, big birds and more. Add one or a few of these trends to your existing décor to instantly update your space. Take a look!
1. TROPICAL PLANTS
Not only are live plants a great way to add a pop of color and life to a space, they also are beneficial to indoor air quality! Plants are handy corner fillers, specifically tall ones. If you have an empty or awkward space – stick a plant in and voilà, problem solved!
The snake plant (common name) in particular has been a super hot trend this Spring. In addition to looking great, it is also very easy to care. So if you're not blessed with a green thumb, this plant could be the perfect green addition to your décor!
Fun fact: Snake plants are also commonly called Mother-in-law's tongue. Ha ha! Its "real" name is Sansevieria trifasciata.
2. FAUX (FAKE) PLANTS
Faux plants have come a long way, making it rather difficult to tell the difference between real and fake unless you touch them. Try mixing real and faux plants together to fill holes in your indoor or outdoor gardens.
Out of the 3 plants above, which one(s) do you think is/are real? (See the answer at the bottom of this post)
3. SEAGRASS BASKETS
Baskets come in all shapes and sizes and add a touch of natural beauty to any space. In addition to looking great, they're extremely versatile, you can use them for storing towels, throws, cushions, books, magazines, even toilet paper rolls. You could even use it as a planter like we did.
4. ACAPULCO CHAIR
This egg-shaped chair comes in a variety of colors and is perfect for indoor and outdoor spaces. It's stylish, airy, and amazingly comfortable. Because of the weave it doesn't visually take up much room, making it sleek and not bulky which is perfect for a small space.
5. MELLOW YELLOW
Yellow is the "it" color of Spring/Summer 2019, so expect to see lots and lots of yellow in both fashion and home décor! Any shade of yellow goes, from sunshine yellow, to Marigold, and even mustard. With such a cheerful shade it is guaranteed to brighten up your home. 
6. ARTISANAL RUGS
We like to call rugs floor accessories because, well, they are. Use one like this to inject trendy colors and geometric patterns into your space. They're inexpensive, allowing you to layer them over large rugs to change up the look of your space.
Warning: Get non-slip pads to keep the rug in place to prevent bunching and shifting.
7. BIG BIRDS
Although these are meant to be displayed in a garden, lawn, or on a patio, we've decided to use it indoors. It's such a fun and quirky accessory that is also a great empty-corner filler but with an added whimsical touch. This one is 43" tall and fits right in with our décor. 
Answer from #2:  Out of the 3 plants, the only "real" one is the one on the left. Did you guess right?
What's your favourite home décor trend this Spring? 
We'd love to hear from you, share your thoughts in the comment section below.
Happy Spring!