Before and after: cottage bedroom makeover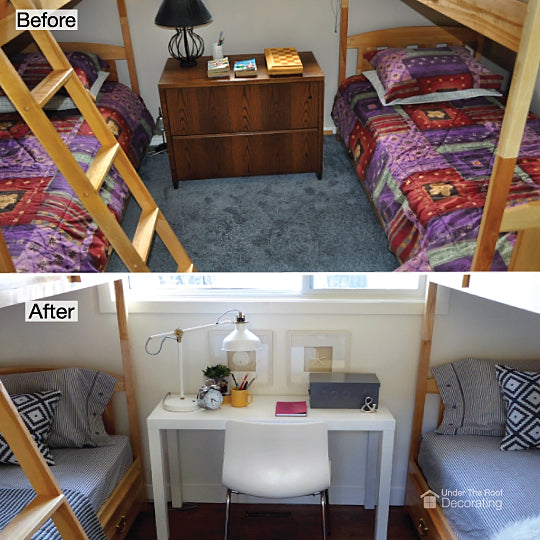 Hard to believe it's the same room, isn't it? Same bunk beds, same window, same layout but it looks completely different. See how we transformed this small
cottage
bedroom from dated to stylish while keeping the same furnishings.
Although the room was in a desperate need of a makeover, it was extremely functional and the perfect hangout spot for young kids. My kids and friends didn't mind the blue shag carpet, the old office credenza used as a dresser or the busy patterned comforters. 
Now that my children are all grown up, my husband and I decided to give the space a more mature look while keeping its functionality and furniture. Bunk beds are a great investment, especially at a cottage where there's always someone visiting, so we kept them. Often we have a family of four staying in this room – two adults with two kids.  The room is spacious enough for everyone and drawers under the bunks and a small closet offer plenty of storage for everything needed when vacationing at the beach.
We painted the walls, ceiling, trim, baseboards and casings all white including an old IKEA table that used to be orange. It's amazing how fresh the space looks and how much bigger it feels. I wasn't sad to see the blue carpeting go in favour of new laminate floors, which I love. They're the perfect choice for an active cottage lifestyle, since they'll stand up to wear and tear from busy foot traffic, stains, toys and pets.
I bought gender-neutral grey bedding and sheets with stripes to give the room a nautical look. I hung two seashell frames to add more coastal flair to the décor. 
On the other side of the room, there's a small closet and a black leather chair that I bought at a thrift store. It was a real bargain because it has a small rip on the seat which I love, it gives the chair a distressed old vintage look that is perfect for a no-fuss cottage.
When our kids saw their "old" bedroom makeover, they wish we'd done the changes years ago so they could have enjoyed the space while they were young and spending more time at the lake. For now, our friends with young kids get to enjoy the newly revamped bunk room.
Check out more pictures of our purple door cottage, its white interior, the kids bedroom refresh, the walkout basement decorated with maps and pine cones.
Do you have any bedroom makeover tips you'd like to share?
Liette Tousignant
Co-Founder of Under The Roof Decorating