Before and After: A cottage bedroom gets a well-deserved makeover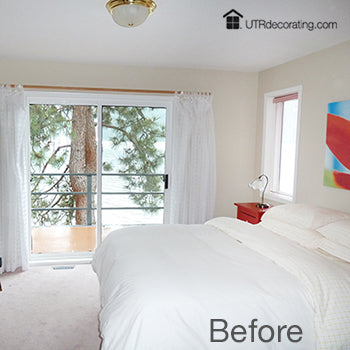 This bedroom is very spacious, but it was also very dated. After 17 years of enjoying the old cottage, my husband and I finally bit the bullet and renovated. New flooring, a fresh coat of paint and different furniture placement that's all that was needed to transform this master into a peaceful retreat. Take a look at the newly refreshed bedroom – it's hard to believe it's the same room. 
The biggest change in this room is the furniture placement. I can't believe we kept the bed on the other side when it looks so good where it is now. In my defence, I must say when the kids were young, we spent most of our time outside. We didn't spend any money on the inside. (I know it shows). But now that the kids are older, we finally took the time to get this room and the rest of the cottage into shape. I'll share all the "before and after" renovations in upcoming posts.
Switching the bed to the other wall made complete sense. We now don't get the sun in our eyes through the east-facing window when it rises around 5-ish on summer mornings.
As you can see, the patio doors are the same. We bought new curtains, and a "real" curtain rod instead of using a dowel. I bought a rod that is much longer than needed to make sure that when the curtains are drawn open they don't cover the windows – they cover wall space instead. It would be a shame to block off the lake view and daylight with curtain panels.
Tip: If you buy white curtains for a bedroom like I did, buy black out curtains. Mine are not thick enough and let too much sunlight in the room in the morning. I'm currently shopping for new thicker ones – still white though. 
With the bed switched to other side, I filled the space with an old dresser that I got at a yard sale for $20, a large mirror that I've antiqued, and two clear acrylic chairs. I chose those chairs because they don't add any visual weight to the space, keeping the atmosphere of the bedroom light and airy. 
Here's a peak at the other side of the room. I know it looks really bad, especially the pink stained carpet – but it worked perfectly for many many years. 
Ta-da! Here's the "after". It looks so much better, doesn't it?
Yes, the walls, ceiling and bedding are all white – all by design. I absolutely love a white bedroom, I find it restful and perfect to guarantee a good night's sleep.
The other reason for using white throughout the cottage is that we don't have air conditioning and it gets extremely hot at the lake during the summer months. Stepping into a white space after a day in the hot sun feels very fresh. I like to add color with small accessories, cushions, and area rugs. 
We replaced all the rugs with chestnut laminate flooring everywhere including the walk-out basement. I wasn't sad to see the pink carpeting go in favour of new laminate floors, which I love. They're the perfect choice for an active cottage lifestyle, since they stand up to wear and tear from busy foot traffic, stains, toys and pets.
We didn't have a headboard before and we still don't. I've created one with picture frames, it's a great temporary solution until I find the right headboard. With that said, I like it so much that I might keep it this way. What do you think?
It's also stylish and inexpensive – cheaper than buying a headboard.
I've created and hung this gallery wall headboard all by myself – it's easier than you might think. Check out Creating a headboard with pictures to see how I did it.
Although the bedroom is all white, it doesn't mean that it's boring. Au contraire, I added interest and fun with patterns, different texture and with small doze of colors. For example, the playful blue and white pom pom throw blanket breaks up the white bedding and adds a little pizzazz to the space.
This bedroom is very Zen inspired – the soft whites and uncluttered space are conducive to a good night's sleep. Bonne nuit!
What do you think of this cottage bedroom makeover? Please share in the comment box below.
Thanks for dropping by!