Before & After: frumpy guest bedroom gets a makeover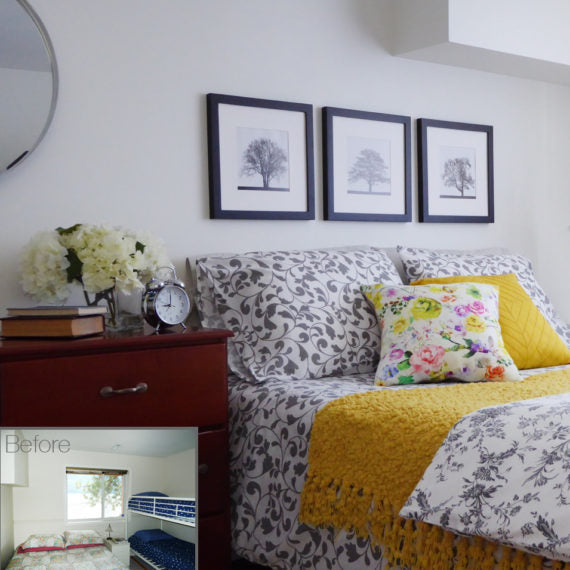 This used to be our guest bedroom at the cottage. I know what you're thinking: it's ugly. It was! When friends and family would come visit with their kids in tow this is where they'd sleep. It made sense to have bunks in the same room as the parents' – it was all about having a functional space where kids could be kids, rather than focusing on having a nicely decorated room. Fast forward to today: our kids are all grown up and so are our friends' kids, so we decided to renovate. Isn't that what parents do when the kids leave? Here's what we did to transform this frumpy guest bedroom.
The old guest room was furnished with a collection of mismatched furniture, bedding and accessories. The queen size bed was actually a futon sitting on top of a wooden base, and there was an old metallic aluminum blind that didn't cover the entire window. In a nutshell there was no cohesive décor scheme going on and it certainly wasn't inviting. To be fair, our intention was to renovate shortly after moving in. The old cabin was so practical, however, that we postponed the big renovation for 15 years.
I know it's hard to believe but it's the same room – you can tell it is by the bulkhead and the window. When renovating, we didn't do any structural changes to this room; only cosmetic fixes. We repainted the room white which keeps the space bright and fresh, which is very much appreciated on hot summer days. We decluttered, we took the bunks out, bought a "real" queen size bed, and placed it partly under the bulkhead so guests can enjoy the lake view when in bed. By placing the bed closer to the window, it made room for a fairly large dresser that guests can use to store clothes and accessories.
I also hung floor-to-ceiling curtains which make the ceiling appear higher. They also add style to the bedroom. 
One of my goals when decorating this space was to hide/camouflage the bulkhead. Since we couldn't move it, I hung a trio of black and white picture frames to create a strong focal point above the bed. Now when you enter the room, eyes go straight to the frames instead of the bulkhead. 
The black frames anchor the bed nicely and the art is simple; it doesn't compete with the other accessories in the room. As you can see, there are lots of patterns and textures mixed together: striped curtains, patterned bedding, and a floral pillow – yet everything works well together. The lively yellow throw and cushion make the space bright and cheerful – perfect to make guests feel welcome.
Although I have pretty accessories on the dresser, guests always end up pushing them to the side and using the surface as a charging station for their electronics. I'd do the same.
Tip to hang  a guest mirror
Before hanging a mirror, make sure to hang it high enough for you and your guests (who may be taller than you!) to be able to see the top of their heads in the reflection. It sounds like common sense, but you'd surprised how often I see mirrors hanging way too low. Details! Details!
At the foot of the bed, I have a big old armoire where I keep beach towels, bedding and extra comforters. It's handy for guests, and for me when I'm getting the space ready for company. I bought the two chairs at a garage sale – they fit in perfectly with the antique/vintage vibe going on that side of the room.
My advice to people who are in the process of buying an older cottage like we did: if you can, live in it at least for a year. It's amazing how much you'll learn about foot traffic, and how bright each room is at different times of the day. It'll make it easier to decide on new floor plans (if needed), and to decide whether or not walls should come down.
I'll never forget the old cottage – we have so many memories of summers spent there with our kids, family and friends – but I absolutely LOVE our newly renovated cottage.
What do you think of this bedroom makeover? Please share in the comment box below.