Before & After: Camouflaging Switches, Plugs and Controls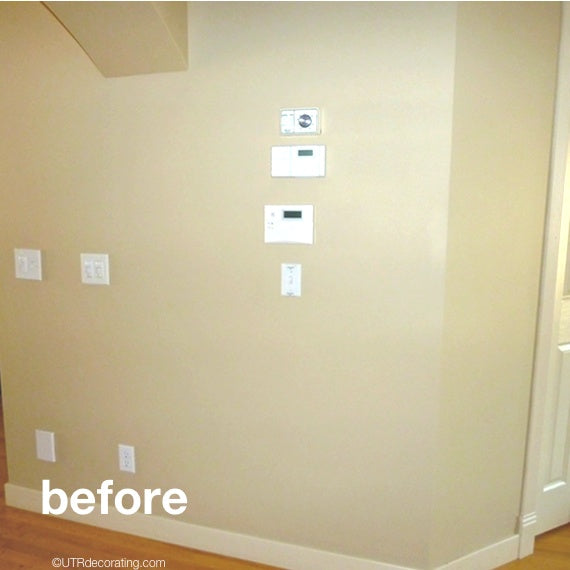 This is control central at Lea's house. While all of these gadgets are handy, camouflaging the controls for the thermostat, alarm system, air conditioning, dimmer switches, and outlets while keeping everything functional and stylish is definitely a design dilemma.  These power controls get used every day by both adults and kids, so they have to be accessible, but they definitely pose a problem when it comes to clean design.
Ta-da! Lea tried several looks but this is the winning design she came up with. Her answer was to mimic the controls on the right side of the wall with artwork on the left, choosing pieces that are equivalent in size and all in white. Notice that the artwork in the frames (the bird silhouettes) is kept simple to avoid attracting too much attention to them. The focal point had to be on the accessories and clock, as to not draw too much attention to the controls.
Why such a large clock? Lea thought it would be fun to play up the time theme since all the controls are on timers. It also helps keeping everyone in the house on time — no more excuses for being late. Also important to note: if you were to draw a vertical line through the display, items on both sides are of equal weight and color, resulting in a well-balanced look.
The nesting tables hide the outlets and are great to pull out for parties to be used as tables to hold drinks, food for buffets, or coffee and desert. A cute lamp with a colorful shade, some books, a Buddah, and fresh cut flowers add colour and life to the space. This control center used to be a design nightmare, but has now been turned into a fun corner that Lea and her family enjoy updating every season.
Thanks Lea for sharing!