Anchor Points: When to Use Small Versus Large?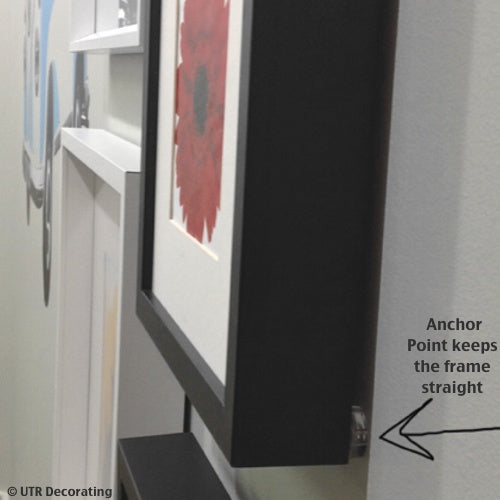 Anchor Points are designed to keep pictures hanging straight and not to support the weight of your frame. The size of anchor point you choose has nothing to do with the scale of your artwork — it's all about the width of your frame.
A small anchor point will fit almost any width of frame, use the large ones on wider frames. Some people prefer using the large point whenever possible as they find it easier to peel the paper off the back. Others use small ones all the time — it's simply a matter of preference. The length of the pins is the same for both sizes, so both sizes are equally effective in securely anchoring your frames to the wall.
Anchor Points will stick to most solid frame surfaces, including wood, plastic and metal. The points are translucent by design, so once they are installed they disappear from view.  That said, the large Anchor Points are slightly thicker than the small ones, so they will make the frame sit a little further out from the wall.
In a nutshell: you can use the small Anchor Points on the majority of frames, or, to keep it simple, use small ones on narrow frames, large ones on wider ones.
At Under The Roof Decorating, we make picture hanging easy. Our innovative products and helpful tips make it simple to hang almost anything wherever you want – and get it right the first time!