An Advent Calendar for Kids at Heart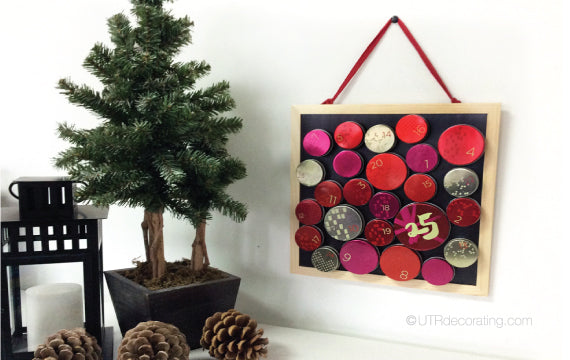 It's almost December 1, have you had a chance to hang your Advent calendar yet? I have. I've hung one at home and one at the office for big kids like me to enjoy. Now, we'll need to figure out who gets to open a tin each day and who gets the large one on the 25th, which has a chocolate and a bonus gift card in it.
My plan was to make my very own Advent calendar for the office, but things changed when I stopped by Starbucks for coffee and was seduced by this fun magnetic Advent calendar chalkboard. Back at the office, I tried two looks to display the calendar and thought I'd share a few tips for each.
First up: the "Lean On" look. I cut a narrow strip of non-slip transparent drawer liner and slid it under the wood frame to prevent the calendar from slipping when each tin is pulled off the magnetic board. It works extremely well and I created a simple nature-themed Christmas vignette around it to keep the emphasis on the colorful tins.
Secondly: the "On the Wall" look. I hung the Advent calendar with our Déco Nails. I used the large head nail because the red ribbon fits perfectly in its groove and then I secured it to the wall. Make sure it's secured well enough to prevent it from getting pulled off the wall when a tin is removed from the board. Sssshhhh…. don't tell anyone but I tasted the treats just to make sure they were good.
Once the chocolates are gone, re-use or recycle the cute tins. Put new treats in them or leave them as is on a coffee table for added Xmas color or make sure to re-use them during Valentine season. They'd be great filled with mini heart treats.
If you want more Advent calendar decorating ideas, head to our Pinterest board where you'll find everything you're looking for and more.
P.S. In case of a moment of weakness, make sure to cover the evidence.
Liette Tousignant
I'm passionate about picture hanging and wall decorating (and I'm also the Founder of Under The Roof Decorating).