Add vintage personality to your garden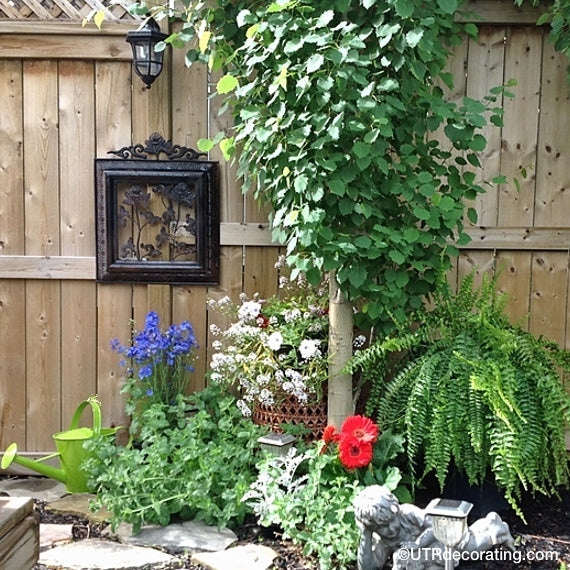 When my friend Carla gave me a rustic metal ornament she bought at a yard sale, I loved it but I had no clue of what to do with it. It's quite heavy — eight pounds to be exact — so I thought it would be perfect for the garden.
Speaking of the garden, this is the pathway leading to my backyard. It's pretty bland and could definitely use more wow factor. The metal ornament turned out to be the catalyst (or kick in the pants!) needed to improve this corner of my tiny inner city backyard. The fence where the two 2×4 boards meet was quite an eyesore so I thought the metal piece could be used as camouflage while adding a whimsical element to my fence.
Although I loved the weathered look of the ornament, it looked very pale on the greying cedar fence, so I spray-painted it lightly in black, leaving some of the rusty/pinky color peeking through. I used a Hanging it was very easy.   Since there were two keyholes on the back (one on each side) I attached a heavy stainless steel wire and used one rust proof deck screw to safely secure it to the fence post. I used Hang & Level to hang it right below the solar lamp.
About spray painting:  I used a cardboard box big enough to fit the ornament in. If you attempt this project, make sure the bottom of the box is well taped so that the paint doesn't spray out the bottoms — you certainly don't want to paint your floor. Spray paint outside using quick drying flat black paint for exterior project. If you're painting inside, make sure to do so in a well ventilated area or in a space with open windows.
Ta-da! I added flowers for much needed color, used a small weaker stool to add height, sat a Boston Fern in a black planter for texture, a water can for fun (and it's useful too), and a weathered garden cherub to emphasize the garden and vintage theme of this quaint corner. The ornament breaks up the vertical pattern of the the fence and adds visual interest to the corner.
I love the element of surprise the vintage ornament adds to the garden. It's unexpected and adds personality to a small corner of the yard that had none. Hanging objects is another great way to decorate your outdoor space and makes your outdoor area feel like a true extension of your home. Now, I'm only afraid that once my friend Carla sees how I transformed the ornament that she might want it back.
I'd love to see other examples of vintage outdoor décor, so feel free to share!
Liette Tousignant
Co-Founder of Under The Roof Decorating