5 tips for hanging bathroom pictures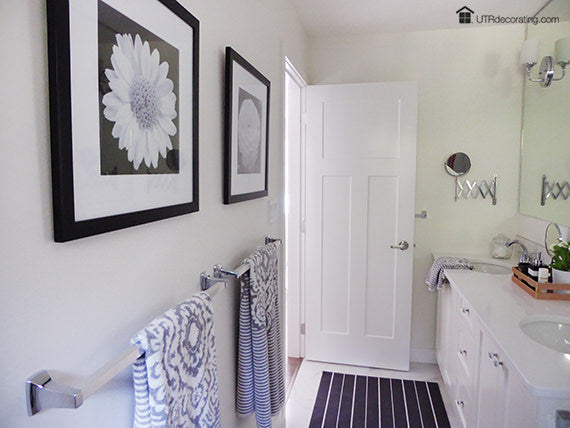 I love hanging pictures in perfect symmetry, which sometimes can be very challenging. I recently hung these two picture frames in the bathroom of our master bedroom at the cottage and thought I'd share some quick steps. I don't like making extra holes in my walls and neither should you – so here are a few tips to avoid damaging your walls when hanging art.
1 – Find the right height
Start by finding the right height for your frames. Don't hang them too close to the towel bars to avoid hitting the bottom of the frames every time you reach for a towel. I hung mine eight inches from the bars.
2 – Create a focal point 
I centered each frame with each towel bar. The bars are 25″ long and my frames are 20″ wide – the frames fill up a good amount of wall space therefore creating a great focal point above each towel rack.
3 – Have the right tools
To hang my frames, I used my Hang & Level tool. I hung the frame on the left first, then I lined up the second frame with the first one. Since the frames are close to each other, it was easy to visually line them up.
P.S. If you'd like to add Hang & Level to your toolbox, you can buy it directly from our online store. It makes a great gift for someone who just moved into a new home.
4 – Keep frames straight
After leveling each frame, I placed small Anchor Points on the bottom corners of each frame. The small bumpers keep my frames straight even when dusting them or when cleaning the glass.
Perfect symmetry was very important because the frames are reflected in the mirror so if they were hung crooked, that's all you'd see in the mirror – crooked frames. Personally, that would  drive me crazy!
5 – Choose art that works
Humidity from hot showers and baths can damage your artwork so choose pieces that can easily be replaced, or that are moisture-proof. 
I kept the art very neutral, black and white, because I like to add color with pretty towels and didn't want the two to fight for attention. I have grey towels like shown, as well as pink, blue, and yellow towels –  they all look beautiful in the bathroom without competing with the art. Black and white art is just like a little black dress; it goes well with everything, no matter what. 
You can see a bit of the master bedroom, if you'd like to see more, click here.
About the floral artwork
I've had these picture frames for over ten years but they'd been sitting in a storage unit for all this time until I rediscovered them. As you can see, the mats were all yellow and warped. Since the frames are of very good quality, and the flower art was not damaged I decided to change the mats.
Wow, what a difference it made. I went to a Michaels store where they cut new mats to fit the large frames. I'm so glad I did; they look very crisp!
Your turn! What's hanging on your bathroom walls?
Thanks for dropping by!
Liette Tousignant
Co-Founder of Under The Roof Decorating