5 things we learned when assembling an IKEA drawer unit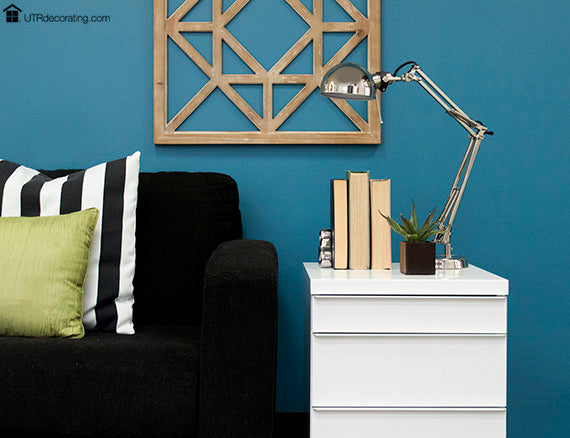 When I saw this three-drawer unit at IKEA, I knew it was THE one. It was not too bulky, it was versatile (3-in-1, a filing cabinet, a dresser and a side table), and it was on casters so easy to move around. If I could have bought the display unit right off the floor to avoid the assembly part, I would have – even if it would have meant paying more. But that's not how IKEA works – you can't escape the dreaded assembly part. So here's what we learned when assembling the IKEA unit.
1.) So many pieces for such a small piece of furniture
When I opened the box and saw all the pieces I felt overwhelmed. Assembling furniture is not everybody's cup of tea. So, if doing that type of furniture puzzle is not for you, ask for help – that's what I did. I asked Ian and Katelin from our office to assemble it.
• Lay out all the pieces and make sure you have them all by comparing with the content list inserted in the box.
• Assemble on a table if you can – it's much easier on your back than working on the floor.
2.) All the pieces were "saran wrapped" in blue 
The drawer fronts, side and back panels were covered in a blue plastic film. The little white dresser was actually blue until we peeled off the plastic. The wrapping is to protect the delicate glossy surface during manufacturing, shipping and assembly.
DON'T remove the blue film until you're done assembling the dresser. You'll eliminate any potential scratches while putting it together.
3.) How to peel off the blue plastic film
Since it was hard to get the plastic to come off – Ian used a utility knife in an inconspicuous area – he started in the corner of each drawer. I'm sure you could do this with your nails, sharp nails.
When peeling off the plastic, do it in one slow motion to avoid any tearing.
Don't do the top flat surface first because you'll most likely end up leaning on it when peeling the plastic. Also, it's best to remove it when you're done using tools.
Ian says

 

"Pack your patience – it's the most tedious part of the whole project."
4.) How to clean the high gloss finish 
A high gloss finish means that it's highly scratch-able. It might not be a good idea to put it in a kids room or in a high traffic area – unless you don't mind if it gets all scratched up.
To keep clean, simply use a wet cloth with mild soap and water. Don't use paper towels; they're too harsh for the delicate finish.
5.) It's rewarding when it's all done
Assembling IKEA furniture is a real accomplishment, especially when the end result looks exactly like the piece you fell in love with at the store. You know – when it works the way it should. In my case, when the drawers slide open and close with ease, and the casters run smoothly.
I love pieces of furniture that are versatile like this one. The kind of piece that can easily live in a bedroom, an office or a living room without looking out of place. In my books, that's a smart investment.
What's the most difficult IKEA furniture you've ever put together? Please share in the comment box below.
Thanks for dropping by! 
Liette Tousignant