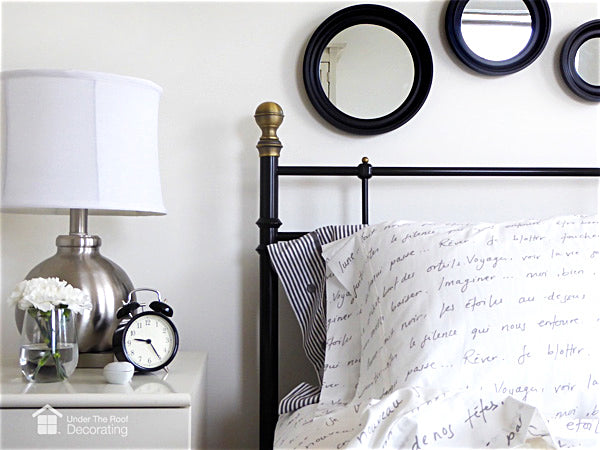 Sometimes all a room needs is a fresh coat of paint to bring it to life. Ladies, think of it as a new outfit for a room. Add new bed sheets, art on the wall, rearrange the furniture and it feels like we have a brand new room. Here are 5 easy décor updates I did to freshen up my daughter's bedroom.
This bedroom  worked really well originally, but when my daughter moved away, she took her bed with her (and a few other things). I was "forced" to re-decorate the room. Since I didn't want to spend too much money on re-decorating, I challenged myself to give it a facelift without any major surgery.
1. Paint is your best friend
Paint is your best friend when a change of décor or atmosphere is needed. Painting does involve a lot of planning and it can be messy, but when it's done (trust me) you'll be happy you did it. This is the room while undergoing the white paint transformation. I'm good at DIY projects, but I'm terrible at painting walls, so I asked Mark, a professional painter friend, to help out.
Tips before you start:
Take the time to carefully choose your paint color. Since I know I won't be repainting for a while, I've decided to paint the walls white. It may sound boring, but by keeping the shell neutral, I can add colors with accessories and bedding.
Use a large sample board to help visualize how your chosen colour would look on your walls. I chose Cloud White for the wall colour. I spent lots of time chatting with the paint consultant at Benjamin Moore – after all, they're experts in paint. She recommended Chantilly Lace for the trim and casings. The two whites go very well together, and I'm thrilled with the results.

Take the time to properly

patch the holes

, sand the walls, tape around the windows and baseboards, and remove the outlet covers. Cover the entire floor with a drop cloth too. Although it seems very time consuming it's easier than trying to remove paint from surfaces after the fact.

If you're painting with white over a dark saturated color like I did, buy a good primer and be prepared to give at least 4 coats. After 3 coats, I could still see a bit of the dark color coming through.  Go for the 4th coat – don't cheap out, especially if you get lots of daylight in the space. You want to see beautiful white walls, not a remainder of the previous paint color poking through.
2. Rearrange the furniture
It's a small room and I have a big armoire in it to make up for the small closet. That made my furniture arrangement a bit limited since I also had 3 windows to decorate around. I kept the armoire in the same place and moved the bed right across from it to the other wall. Did I mention that my daughter took her bed with her?  I had an extra twin size bed in the basement which I thought would be perfect for her to sleep in when she visits.
I placed the small white dresser to the left of the bed, I tried it on the right but it didn't look as good.
Those small changes alone make a huge difference in the room.
3. Flooring
This is an old house, with wall to wall carpet on the bedroom floor. Since the carpet looks a bit tired and dated, I laid a large black and white IKEA area carpet over it.  Looks great and help ground the space. There's a large pattern on it which adds movement and fun to the floor.
4. Fresh bedding
I couldn't resist these grey and white French quotes all over the sheets. I bought them online from Simons, and the best part is that they were on sale. Love it.
The look feels very dreamy and very French – it's like a trip back to my French heritage every time I walk into the room.
In case you're wondering, the quotes are all very dreamy. They're about the moon, love, friends, dreams… all good and positive vibes that encourage a good night of sleep.
5. Art for the walls and accessories
Once you've placed your furniture and lighting, address the walls. I decided to glam up the space, and Marylin is what I had in mind. I bought a couple of canvases of different sizes to figure out what size I'd like best.
Mirrors were obvious; after all Marylin was in the house. I found a set of funky round mirrors and hung them at random. I'm quite happy with the results.
Once art is on the wall, have fun with accessories.
For this makeover, other than a few items such as the bedding that were new, I shopped my house. It's amazing how much stuff I found. Just one room makeover is good stimulation to tweak other spaces in your house, to make you love your home even more. It helps to keep it fresh and current.
My daughter hasn't seen her bedroom transformation yet. I can't wait for her to see it and to get her reaction. It's funny the things parents do when kids leave the nest. We gladly take over what used to be their space and turn it into a place that feels good for us. Love you Erica, ma petite fille!
Do you have a room in your house you're dying to make over?