5 Minute Picture Hanging: The Easiest Way to Hang a Frame Using the Decorator's White ToolBox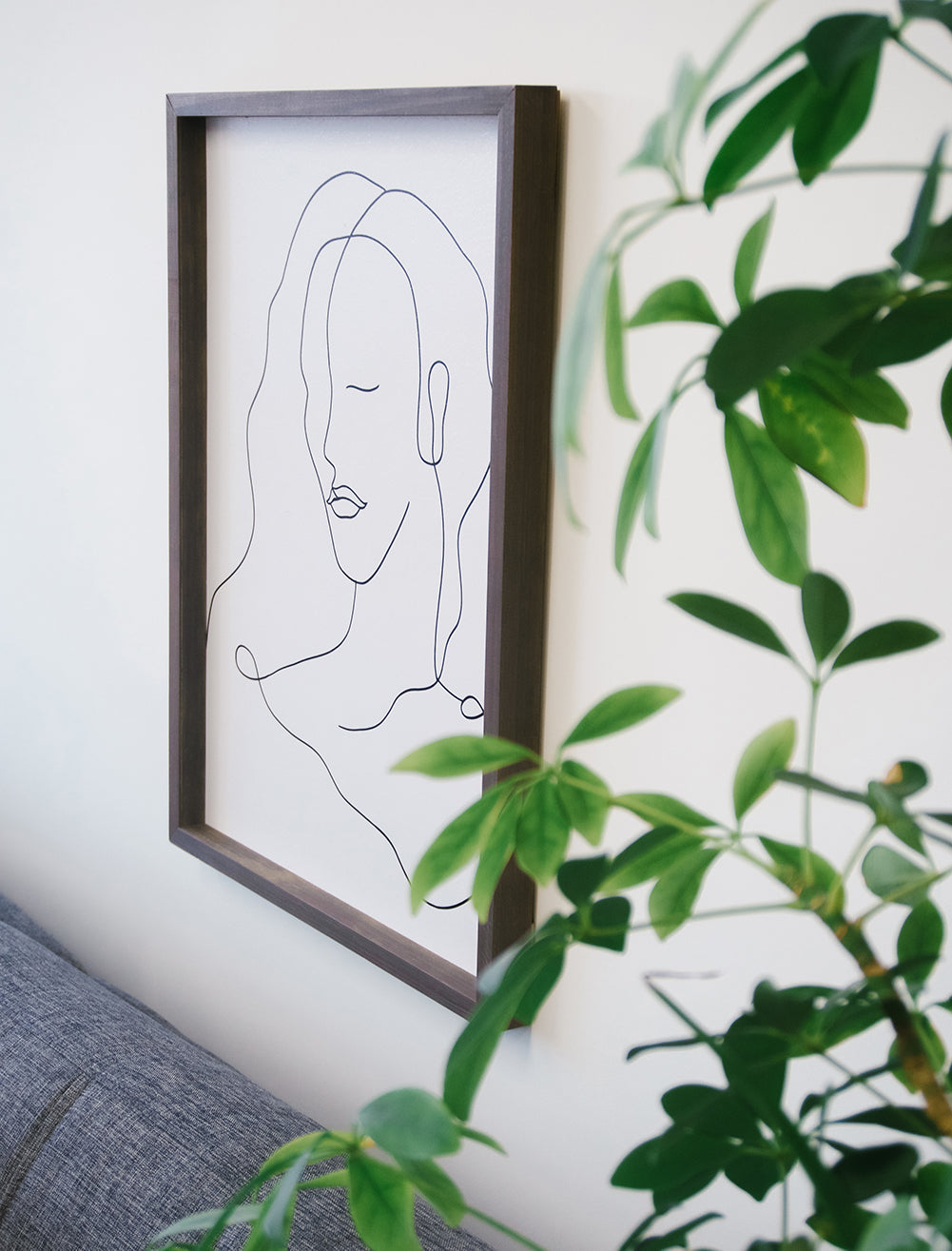 Is it easier to travel to the moon and back than hanging pictures? Sometimes it feels like that huh? But don't worry, we've got a PhD - we're the Picture Hanging Doctor and we've got all the tips and tricks to hang a picture frame perfectly on the wall!
It took us less than five minutes to hang this pretty frame with a woman's silhouette. Don't believe us? See for yourself in the video below. Best of all, everything we needed was in the Decorator's White ToolBox™, so we didn't need to make any trips to the store.

How to hang the frame

The Decorator's White ToolBox comes fully loaded with all the tools needed to hang pictures in a snap.
Use

Hang & Level™

to find the right spot on the wall where you want to hang your frame. (We hung ours about 6" above the sofa cushion).


Remove the frame from the tool and press the button it was hanging from to mark the spot (frame is resting on the sofa).


Hammer in the nail.


Level your frame and hang it.


Put away the tools.



Fluff up the pillows and you're good to go!
How easy was that? Decorate your home in a jiffy!
Note: when hanging art above a sofa, make sure the back cushions are straight. Why? If they're crooked, there's a good chance you'll hang your art level with the crooked cushion, which means crooked art.
Styling
Love what we've done with this space? Us, too! It's fresh, stylish, and playful without being overly girly. The woman in the silhouette frame is such a simple piece of art, but does wonders to make our space classy. It's a neutral, so it would fit in any space no matter what the décor style or color is.
Cushions are an easy way to style a sofa without spending too much money. Here's our cushion strategy:
Choose three different sized cushions

Choose different cushion textures (we chose a rectangular pom pom, blush and white striped canvas fabric, and a white fluffy haired cushion).
What's inside the box?
All the tools we used are included in the Decorator's White ToolBox, which we just launched. 
It makes the perfect gift for new homeowners, friends and family that just renovated, or for the people in your life that just love art. 
But don't wait too long! This is a LIMITED EDITION toolbox and won't be around forever. We're offering an exclusive 30% discount. PRE-ORDER NOW and it'll ship to you in mid-November. Wow your loved ones with the all-in-one toolbox!
Have questions? Just ask! We're all ears in the comments section below.