2018 color trends: the hottest paint colors this year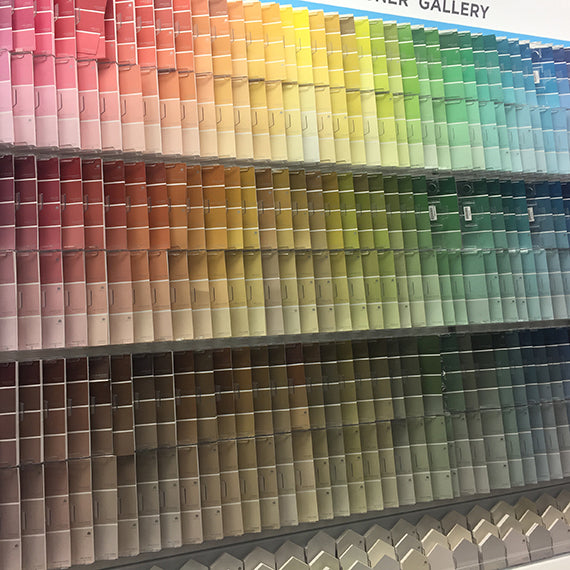 Are you thinking of painting this year? Are you feeling confused and don't know if you should paint your walls in red, green, blue, grey or to play it safe and paint everything white? Well, if you're feeling overwhelmed by the endless colors available, you'll love this post. I've done a round-up of what's trending in paint this year and hopefully it will help you choose the right color for your walls and paint with confidence.
Every year at this time, large paint companies announce their choice of colors for the year. Not that I'm a slave to new trends but I like to know what's new in the design world. Don't you? Let's start with….
1. Caliente by Benjamin Moore – a vibrant shade of red
You can never go wrong with a bold pop of ruby red, especially in a dining room or kitchen. Tip: red makes a fantastic accent wall colour.
2. In the moment by Behr – a soothing blue/grey/green
This cool, tranquil, spruce blue is inspired by nature and is a soothing, restorative coalescence of blue, gray and green. (Behr)
3. Cast iron by Sico.ca – think of the color of your favourite cast iron pan
Dare to go darker with this deep, grounding black hue that offers a respite from life's worries. Cast Iron pairs beautifully with almost any design style. (Sico)
4. Oceanside by Sherwin Williams – a beachy blue green hue
A complex, deep color that offers a sense of the familiar with a hint of the unknown, Oceanside, bridges together a harmonious balance of blues and greens that can be found in what's old and new. (Sherwin-Williams)
5. Black magic by Olympic Paint – a color that embodies glamour and strength
Reflective of intellect, independence and timeless sophistication, black paint can be integrated easily into existing décor. (Olympic Paint)
Whether you follow the trends or not, expect to see more of these colors next time you flip through any home décor magazines. So punch it up a notch, it's time to add color to your space.
Your turn, what paint color would you choose for your walls? Or, are you feeling good because you've already painted with these colors? Share your thoughts in the comment box below.
Thanks for dropping by my friends!
Liette Tousignant
Co-Founder of Under The Roof Decorating