Wrapping Up Unforgettable Holiday Gifts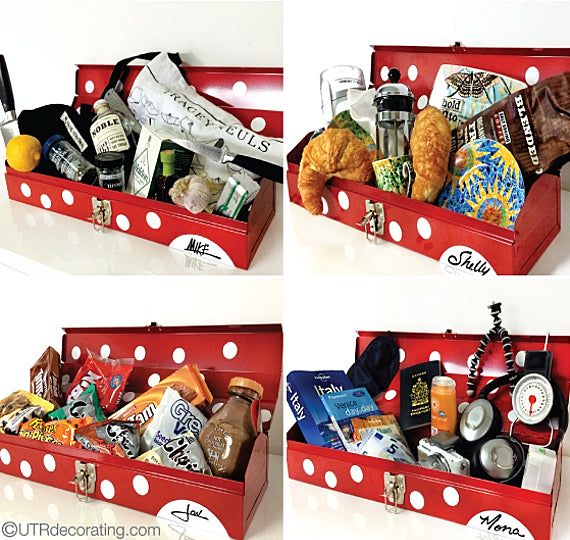 This Christmas we've decided to spend as much time on gift wrapping as we do on the gift itself. Since most people would expect to find tools in a tool box, we thought we'd surprise our friends and family with unexpected cool gifts tucked inside each box. We jazzed up our plain store-bought tool box  with white polka dots to turn it into the perfect red and white holiday packaging for our gifts. Here are some gift ideas to pack in the boxes:
Sweets & Treats: Use the tool box as a secret spot to hide a stash of candies to give to someone who has a sweet tooth.
Gear for Globetrotters: Fill the box with all kinds of useful gadgets and inspiring reads for a loved one who is planning a trip abroad.
Morning Coffee: House a mini coffee shop within the tool box with croissants, organic coffee beans, a mug, and a French press to brew the perfect café.
Cook's Essentials: This is a fabulous gift for the wannabe chef on your list. Just make sure to get an invitation for dinner.
The best part is that if you don't feel like making your own polka dot tool box you can win this one. It comes filled with our cool tools, which you can keep, or you can keep the tools and re-gift the box with anything you want just like we did in the pictures above. It's your choice, we don't mind re-gifting.
WIN IT NOW!  Hurry up, our contest ends November 25th. Click here to enter.
Good luck!
Liette Tousignant
I'm passionate about picture hanging and wall decorating (and I'm also the Founder of Under The Roof Decorating)