What to hang in a dining room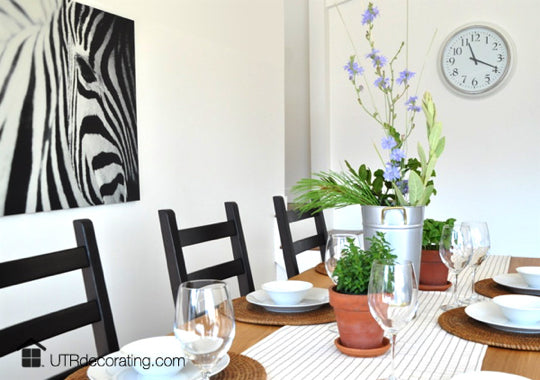 A dining room is the perfect place to hang art. There's usually at least one long wall to hang a piece or a group of pieces to create the right dining ambience. Since it's a place for your family and guests to gather to share a meal together, hang something interesting that will spark a conversation and that's enjoyable to look at too. Here are some ideas for what to hang and what to avoid.
You can hang just about anything in a dining room: paintings, photos, clocks, mirrors, chalkboards, decorative plates, wall shelves, tapestries. With that said, avoid any controversial pieces, violent images or nudes that might offend or make your guests feel uncomfortable. Save those for rooms in the house that are less public.
This is my dining room at the cottage where I hung a large canvas of a Zebra. It's fun and kids love it (we always have lots of kids around). The black and white stripes add energy to the space, and looks good with any color I add to the room. On the adjacent wall, I hung an oversized IKEA clock.  It's stylish but casual, and it's an affordable accessory to decorate a large wall space.
Here's more fresh inspiration for ways to decorate your dining room:
This oversized piece creates a fabulous focal point in this small space. The nature theme fits right in with the reclaimed wood wall. 

Image via domainehome.com
This large chalkboard is casual and fun, perfect for jotting down the day's menu or inspirational quotes.  P.S. I love the farmhouse table.
 Image via French Country Cottage
Instead of hiding your beautiful china plates in the cupboards, hang them up in various patterns to show them off.  Or, if you have some onesie-twosie plates that are lonely, hang plates of different colors, styles and sizes to make an interesting display.
Image via Home Bunch
This full wall display is another great way to create interest in a dining room.  The mirrors brighten up a room by reflecting light.
Image via mylovelythings.blogspot.it