Welcome fall to your front door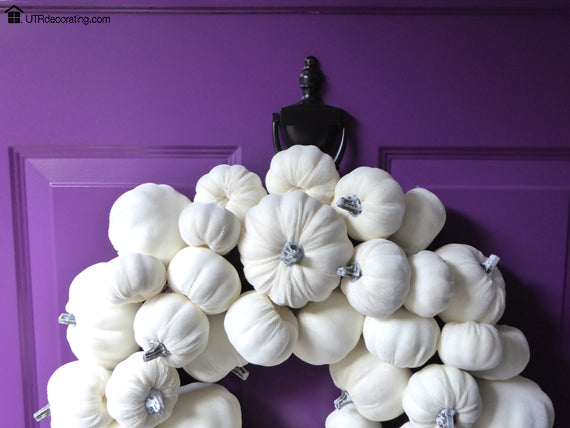 With the arrival of fall the beautiful flowers on your porch may be starting to look drab and dull, which means it's time to do a little autumn decorating. Hanging a fall wreath on your front door is the perfect way to add a little bit of seasonal color to your home. The wreath will jazz up your front door instantly, add curb appeal, and create a nice welcome for friends and family.
By the way, don't feel bad if you thought this wreath was made with garlic bulbs because that's exactly what one of my co-workers thought. With that thought out of the way, welcome to my purple door cottage.
I love the idea of having a wreath on my front door for every season and for some special occasions. It keeps my door looking fresh and it cheers me up when I get home. This year I kicked off the fall season with a brand new wreath made with mini felt pumpkins. I love how the white pops against the deep purple door.
Different doors require different hanging strategies. Since my purple door has a window, I simply hang my wreath from the door knocker with a short string or a twist tie. It does the trick and makes it super easy to switch wreath as the mood strikes.
If you're looking for different ways to hang a wreath without damaging your door, read the following tips I share in "How to hang a wreath."
There are so many beautiful wreath styles to choose from. Here are some of my favourites:
Fresh or dried hydrangea blooms and leaves make beautiful statement wreaths. Photo by Etsy.com 
This one is a burst of color that can easily extend to the holiday season – or even longer if you want. Photo by Popsugar Home
You know you have arrived at a nature lover's home with this wreath. Photo: findinghomeonline.com
The striking pheasant feathers in this wreath add sophistication, pattern and texture to this bright yellow door. Don't you love how the wreath, ribbons and bows match the antique door knob? Photo: Pinterest, source unknown. 
If you want to see more door couture visit our Pinterest board where you'll find a huge variety of wreaths, DIY projects if you want to make your own, and ideas on how to hang your wreath.
Can you tell I love purple? This is the door that leads to our mudroom. I hang a wreath directly on the handle when the door is open – the screen is closed of course to keep the bugs out. 
Which wreath is your favourite?
Liette Tousignant
Co-Founder of Under The Roof Decorating