Say "I LOVE you" with this Valentine's Day Paint Chip Art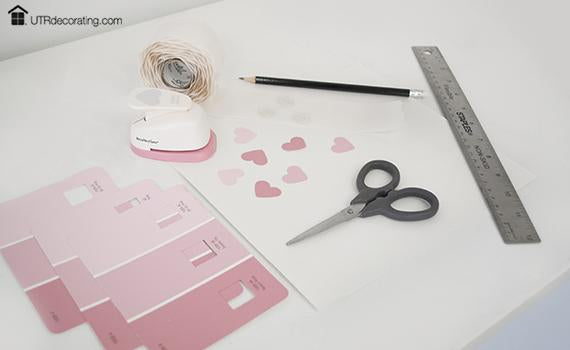 OK, my heart is fluttering over this little project. How cute is this? This DIY would absolutely make Martha green with envy! If you're like me and like to decorate for Valentine's Day but don't want to paint the whole house red, you'll love this easy DIY. Also, you don't need any special skills or complicated tools, in fact you probably already have everything you'll need. The best part is that you can display this pretty frame all year, no need to take it down after cupid comes around because LOVE is simply timeless. *Written by Liette, Co-Founder of UTR
P.S. I hung my frame up but you don't have to, especially if you don't want to put a hole in your wall. Instead, display it on a mantel, bookshelf, sofa table, entryway, on a bedroom dresser or wherever you want your loved one to see it. OK, are you ready to see how I did it? Read on! * Written by Liette, Co-Founder of UTR.
What you'll need
Paint chips (I got mine at Lowe's)
White card stock
Scissors
Zots (clear adhesive dots)
Ruler
Pencil
Directions – let's get to work!
First, decide on the size of frame you want – it will help determine the size of heart punch to buy and how many paint chips to get
Cut the card stock to fit the size of the frame
Use the mat opening as a template/or guide for your heart art – I calculated that we'd need 4 rows of 4 hearts
Punch out all the hearts before getting started – I used the 3 colors that were on the same paint chip to get a gradual "ombré" look
To make the most of each paint chip – punch the hearts with the puncher facing up, it makes it easier to see
Optional: you can use a pencil to make lines – it will help to make sure the heart is straight
Get organized and place the sticky dots on all the hearts – warning, they're really sticky
Don't press too hard on each heart – in case you may have to move the hearts or straighten them up
Put the glass and backing in place and you're done! Easy peasy and soooo pretty!

Tips
The bigger the frame, the more paint chips you'll need. Make sure to get enough paint chips to do your project.
Use stiff card stock. If the paper is too flimsy, it will curl up and wrinkle up (i.e. wallpaper is not a good option).
When using the heart punch, using it with its bottom up to make sure you're cutting into the right area.
Don't cut the Zots adhesive dots in half thinking you could save money – I tried that. The hearts will sit crooked on 1/2 cut dots.
With a shadow box, you can place your art on the front or back of the extra deep frame. (we did the front) It's totally up to you.
The paint chips we used to make the gradual "ombré" look are all from Valspar, the colors are Nana's Rose, Sweety Pie and Oh So Pink. Use colors from the same paint chip, it works best.
Have fun!

How cute is that? Do you have any heart art DIYs that you're planning to make for your other half? Talk to me, I'm listening! Leave your comment in the box below.
Happy early Valentine's Day!
Liette Tousignant
Co-Founder of Under The Roof Decorating
SaveSave
SaveSave
SaveSave
SaveSave
SaveSave
SaveSave
SaveSav