Tips for choosing the right patio chairs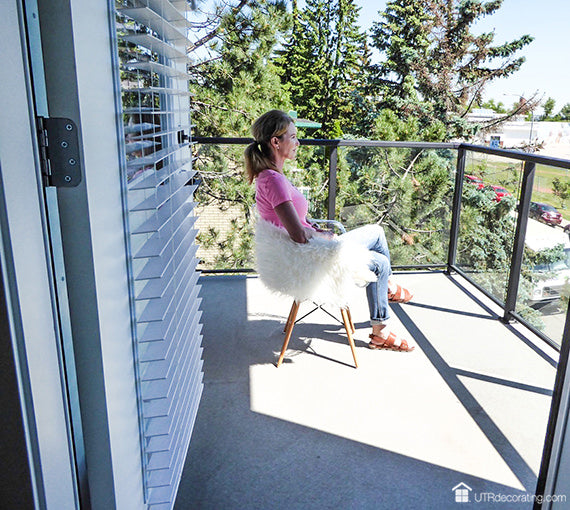 You fall in love with the perfect patio chairs, bring them home only to realize that the back is too tilted or the chairs are too low. If that has happened to you, you're not alone. Here's a very simple tip that takes all the guesswork out of choosing the right height for your outdoor chairs.
Do the chair test
This chair test never fails. Sit on the balcony or patio on a regular height chair, then on a stool, to help confirm the best chair height. This small balcony features a 42″ railing, clear glass panels and a beautiful view. The sitting test revealed that the lower I sat, the better my view was as it was unobstructed by the railing. And, sitting slightly lower meant I'd also be protected from the wind on a gusty day.
To figure out my furniture placement, I used two dining chairs and tested them in different configurations: side by side, face to face and at a 90 angle to each other. The chairs placed at an angle proved to be the best combination and created the best sightline from the inside of the condo. With this information in mind, I knew I'd be shopping for two low chairs. I figured that chairs would be more versatile to create a conversation area than a small outdoor couch.
To see more pictures about this small balcony makeover, click right here.
Do you have any outdoor decorating tips you'd like to share? If yes, share in the comment box below, we'd love to hear from you.
Thanks for stopping by! Talk to you soon,