Timeless walls – time zone clocks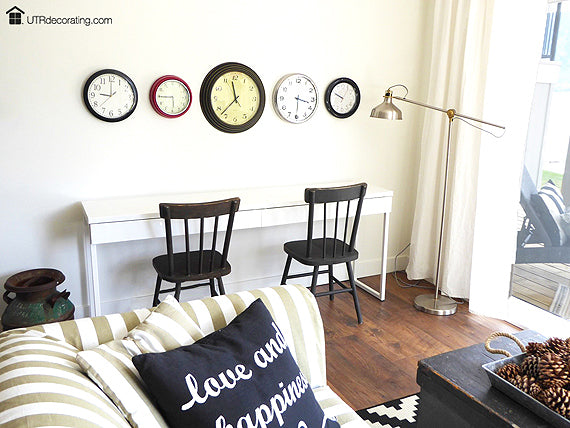 Last summer I created this clock wall at the cottage above my mini work space. Now that I'm back at the lake after 5 months of winter, I felt that the display could use a little pick-me up. I did just that by adding the name of a city where a loved one lives above each clock. It's simple yet so impactful.
Here's what we did:
Pick cities where family lives (like I did), cities you admire or places you'd like to visit one day. You know, the ones on your bucket list.
Determine the size for the tags. After trying different ones, I settled for 4 1/2 inches long, which is big enough to see from a distance without overwhelming the clocks or the wall.
We used capital letters because they're easy to read and we printed them in white on a black background to get the best visual impact on the white walls. We printed on Avery sticker paper, peeled off the backing and stuck the names close together on a small piece of foam board. 
We chose a black foam board over a white one because it looked the sharpest against the white background. It's also just a matter of preference. 
To cut the tags, I started by using a guillotine but it didn't work very well. I ended up using a utility knife and a metal ruler which allowed me more precision and sharper edges.
Since the tags are very light, I simply used double sided tape to attach them to the wall. When I get tired of the look I can easily remove them from my wall without damaging the surface.
I lined up all the tags to make one long, straight row above the clocks, which adds a sense of order to the wall since the clocks are all of different sizes. That said, there's no wrong way, so be as creative as you want to be.
In addition to adding a touch of whimsy to the space, the time zones are a simple way to remind me of what time it is in each city before I start dialling someone's number.
Warning: Set the time for each clock before you hang them up. Trust me, it'll save you lots of time and aggravation as it can be quite a finicky process to re-hang each one.
One more warning: If your clock wall is located steps away from a guest bedroom like mine is, take the batteries out of the clocks when guests are visiting. If not, I guarantee you that the tic toc will drive your guests crazy. (Not a bad thing if you don't want them to stay too long). Kidding!
My  little work space works great. It's a no fuss place to perch at cottage while I catch up on emails and phone calls without cluttering the kitchen or dining table. I bought this narrow IKEA table years ago and it works wonders in this walkout basement. It barely takes up any floor space and has 2 drawers perfect for hiding office type stuff which keeps the top clutter-free and ready to be used at all times. If you'd like to see how I hung all the clocks, take a look right here.
On this note, it's time to get back to work. I want to finish this article before dinner time. Au revoir!
What's hanging on your walls?
Liette Tousignant
Co-Founder of Under The Roof Decorating