Step-by-step guide: Creating the perfect gallery wall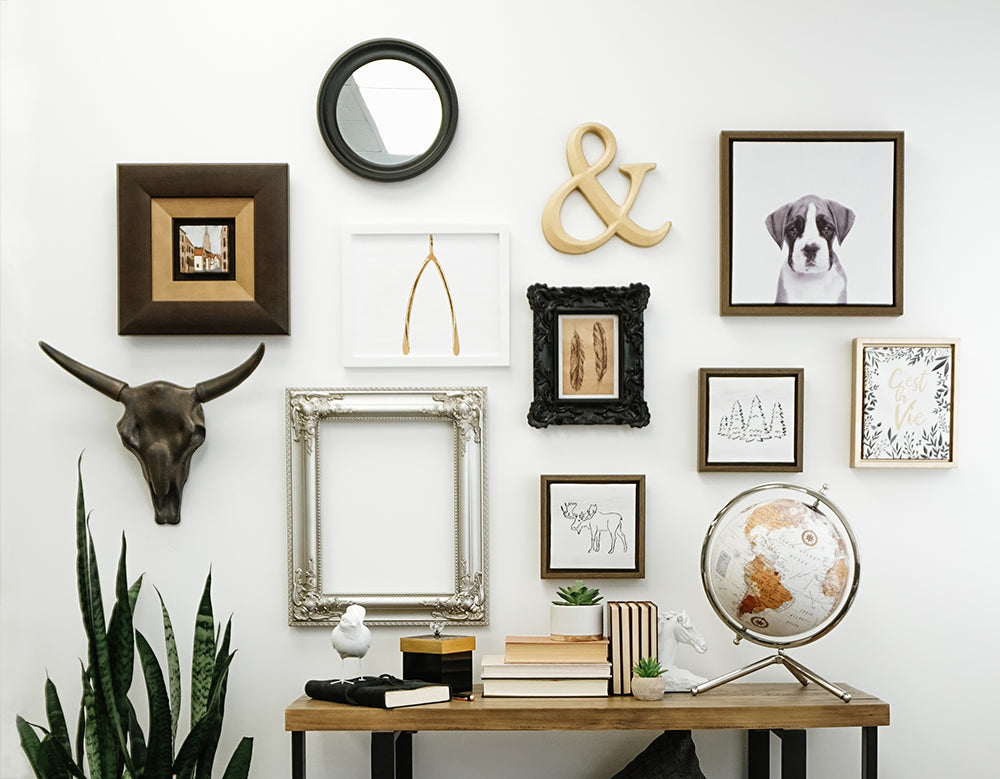 Have a love-hate relationship with gallery walls? We know what you mean. It looks intimidating and sometimes it's hard to know where to begin with so many different pieces. But with the right tools, anything that looks complicated can be made easy (or at least easier!). 
But wait. What if you're thinking you can freestyle it? Even if you're after the asymmetrical look, it doesn't mean you should just dive into it without a plan. That's why we've put together this step-by-step guide, so you can take all the guesswork out of the equation and come out with a stunning gallery wall. 
This was our space before our gallery wall. Are bare walls any more intimidating than gallery walls? We don't think so. Let's get started!
Choose your tools: The Picture Hanging Kit™
You're only as good as the tools you're working with. So choose wisely! We used the Picture Hanging Kit to create our gallery. This kit comes with the perfect army of hanging tools fit to deal with various hanging hardware. The kit comes in 33 pieces and 40 pieces. Aside from the quantity, can you spot the difference between the two kits?   
You guessed it. It's the yellow hammer and the large kit has more pieces to it. Both kits include: DécoNails™, DécoScrews™, DécoHooks™, AnchorPoints™, SpacingStrips™, and MiniLevel™.
Let's get hanging
The first step is to create a floor plan, literally. 
If you're a regular reader of our blog, you know this is how we always start. Lay out all your items on the floor and start building the gallery. This helps you to better visualize what it'll look like on the wall and you can move things easily around without worrying you made a mistake hole. 
PRO TIP: Always take a picture of the look you created on the floor. This will become your reference guide when you start building the gallery on the wall, so you don't have to just rely on memory. A picture also identifies things you might have missed with the naked eye. So adjust items accordingly. You want to review before you start hanging anything.
Throughout our display, we balanced a good mix of white, black, and brown items. Check out our other blog post on how to display frames with a smart decorating hack. 
See the SpacingStrips in between our frames? Even though we're going for a freestyle gallery, it doesn't hurt to keep somewhat consistent spacing between our frames and other items. This way, it adds a certain cohesion to the overall display.
How to use SpacingStrips™
We laid out SpacingStrips on our rug just to confirm the spacing we wanted to see on the wall. Once we were happy with the floor gallery, all we did was peel and stick them to the wall as we hung each item. These strips have a low impact adhesive and can be reused over and over again. See this short video on how to use SpacingStrips.
Throughout our gallery, we used either one or two SpacingStrips between items. We didn't focus too much on identical spacing throughout because we were going for a more asymmetrical look. 

Hanging the first frame or item
Hanging the first frame is the toughest part because this is the piece that anchors the rest of your arrangement. Since we wanted our gallery to hang above our table, we needed to confirm what height looked best above our table accessories. 
Our moose frame was the first to go up. We centered it with the table and went up from there. There's no right height in this case as it's subjective, but it also depends on what you're planning to accessorize your table with. Do you have tall accessories or short accessories? Remember, you need to consider both lengthwise and widthwise when it comes to displaying a gallery. 
Once we centered the moose, feathers, and ampersand above one another, we started building the right side of the gallery. Here's how each frame was hung in order. 
The moose - DécoNail™
Our moose frame was fitted with a sawtooth hook, so we knew we wanted to use DécoNails because the nail head fits perfectly in the teeth of the hook and prevents the frame from slipping off. The kit comes with two nail head sizes (small and large), so you can test which size fits best with your hanging hardware. We went with a large head.
We used Hang & Level™ all throughout the gallery to hang our frames up. This tool comes separately from the kit, but makes a handy companion for projects like galleries. Here's a short video on how to use Hang & Level. 
The feathers - DécoNail™ + AnchorPoints™
Since our second frame (the feathers) also had a sawtooth hook, we continued to use DécoNails. Notice anything unique about the back of this frame? It's a tabletop frame. You know, the ones every family photo makes its way on? We simply removed the foot from the frame to hang it on the wall and no one's the wiser.
Keeping frames straight - AnchorPoints™
As you're building your gallery wall and hammering in your other nails, you might notice your pieces moving or shifting along the wall. When this happens, straighten your items right away! If not, you can end up hanging all your items crooked. We know this can get annoying to fix and not to mention, it adds extra time, so a surefire way of keeping your items in place is using AnchorPoints. 
The feathers frame is plastic and super lightweight, which would have gone crooked on our wall if we didn't anchor it down. AnchorPoints keep frames nice and straight and you can buy them in bulk for galleries if you use all the ones in your kit. 
The ampersand - DécoNail™
Our ampersand didn't come with any built-in hardware and instead had a hollow backing, which worked well with any tool from our kit. To keep things simple and because it's light, we hung the ampersand with DécoNails too. We used Hang & Level to help us place and hang this beauty.
Building the right side of the gallery  
The trees - DécoNail™
Next, come our trees. We hung this frame slightly above our globe. Since the frame is identical to the moose, we used the exact same steps to hang it. Scroll up to refer to the moose section.
PRO TIP: After hanging each frame, make sure you step back and assess. If anything needs to be tweaked, do it then and not later because once something's crooked, it will impact the entire gallery. Fix spacing or height and keep going. Also make sure you use the MiniLevel that's included in the kit to ensure your frames are straight before nailing them in the wall.
The puppy - DécoNail™
As you can tell, DécoNails are a fan favorite of ours but that's only because so many of our frames have sawtooth hooks! Our puppy frame came with a sawtooth hook, and it was a piece of cake to hang since we already hung three pieces very similar to it. The drill is the same as before: use Hang & Level to place the frame on the wall, press the button to mark the spot, and hammer the nail in. You can use either Hang & Level or the MiniLevel that's included in the kit, and you're done.
C'est la vie - DécoNail™
At this point, you should be a pro at using DécoNails. The steps for hanging our french frame are the same as above, but notice how we used Hang & Level sideways? We were able to still hang it on the single button, but couldn't hold it upright because the puppy frame gets in the way of the handle. 
Hanging the left side of the gallery
The silver frame - DécoNail™ + AnchorPoints™
Because there's no glass or art, this frame is fairly light and kept shifting on the wall, so we anchored it to the wall using AnchorPoints. Problem solved. 
The wishbone - DécoNail™
Make a wish before hanging it! If you ever wondered what are some of the most common picture hanging hardware used, it's safe to say that sawtooth hooks are one of them! Follow the same steps as above.
Are you stepping back to assess your gallery?
Framed tile - DécoHook™
Looks can be deceiving. Although this framed tile doesn't look heavy, it is! It was brought back from a holiday trip to Europe and has sentimental value to us. We chose to hang this precious piece with a DécoHook, which can be trusted to hold up to 40 lbs. The last thing we'd want is for any of our treasured items to fall off the wall, or worse, break. No tools were needed for this hook. Just simply twist and push it into the wall. We added AnchorPoints for extra stability to keep it straight. Since this frame was fitted with a wire, it was super easy to latch onto the nail head. The nail head traps the wire and ensures the frame won't fall off. See this short video on how to use DécoHooks.
The mirror - DécoNail™
This mirror was equipped with a D-ring, which can often be challenging to hang. We used a DecoNail to hang the frame. The groove of the nail head fit perfectly in the triangle fit of the D-ring, so it's perfectly secure. Don't take any chances with mirrors. Always choose the right hardware that can hold the weight to make it safe. No one likes having to clean shattered glass. And you know what they say about a broken mirror...it's seven years of bad luck we don't want! 
Because we're now at the top of our gallery, we needed a little help with our reach. Make sure you have a step ladder with you to hang your items at the desired height.
The skull - DécoScrew™
This skull is heavy, so we chose something more heavy duty to hang it with - the DécoScrew. Here's a short video on how to use DécoScrews. DécoScrews hold up to 30 lbs. We've hung this exact skull before with the wrong type of hardware and it came crashing down, breaking off the antlers. Thankfully, it was nothing a little superglue couldn't fix, but now we're always reminded of that scare! So it's better safe than sorry to choose the mightier screws.
Once again, we used Hang & Level sideways to hang the skull. 
Now step back and take a final look. We're done! When everything looks good and in the right place, remove the SpacingStrips. 



To recap, here's the order in which we hung all our items: 
There's nothing worse than planning out a gallery and not being happy with the results. Get inspired, put in the time to lay out your frames like we did to help you envision your ideas, and most importantly get your hands on the right tools for the job! Working with the right hardware and tools is half the battle. So now that you have all our tips and tricks, hanging each item in your gallery should be easy, fast, and accurate.
Styling notes
Accessorize. Our overall theme was travel. We decorated with books, a cozy throw, a globe, and journal to symbolize planning our next trip!




Choose a color palette - we went with warmer tones and balanced it with plenty of white space from the mats and different textures. The gold ampersand, wish bone, metal, wood, plastic - it's a smorgasbord of everything but overall, it works!
Makes a great gift 
If you know someone who just bought a new house or is planning a redecorating project, give them something useful! Together, the Picture Hanging Kit and Hang & Level make the perfect gift. 
Thanks for hanging around!