Create Your Own Floral Prints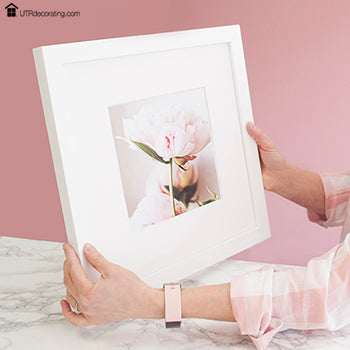 Spring is in bloom, and so is our wall!
Art doesn't have to be expensive. You can make your own, just like we like we did. Aren't these prints beautiful? All we did was build a virtual bouquet – aka, picked photos of flowers that we liked on the internet. We chose mainly peonies because they are great spring flowers and well, it's one of our favorites. We also enlarged portions of the image to focus on aspects of the flowers that we liked.
When "shopping" for flowers online, make sure you don't pick some that are too alike. Keep your display in mind – are you creating a display of 4, 6, 8 or 12 frames (like we did)? You'll want the flowers to be in the same color tones. In our case, we were looking for softness rather than hard lines. The feeling is very consistent throughout the gallery.
As for the frames, we used our Place&Push frames, they're 15″X15″, and the openings are 7.5″X7.5″.
The large white mats and large white frames cover a good portion of the wall to create a large focal point. We were looking for that WOW factor. Mission accomplished, don't you think? The gallery wall is absolutely stunning, especially against that beautiful blush wall.
We printed our images in an 8 1/2″ X 11″ size and fit them in the frames.
Tips to line up images with mats: 
Place a piece of tape on the back of your image, sticky side up. Yes, facing up!
Place the mat over the part you want to frame.
Press the top of the mat to stick.
Insert in the frame and you're done!
Watch this quick 30 second video to see what we're talking about.
P.S. To avoid any glare when taking pictures for this article, we didn't put the glass in the frame.
To see how we hung each frame, see From 1 frame to 12 – the easiest way to hang a gallery wall. We love the results! It finally looks like Spring has arrived, inside and out. 
Want your own Place&Push Frames? You can buy them directly from our online catalog. They come in white and in black.
Do you have any picture hanging tips you'd like to share? Do so in the comment box, we'd love to hear from you.
Thanks for hanging out with us,
#UTRdecorating