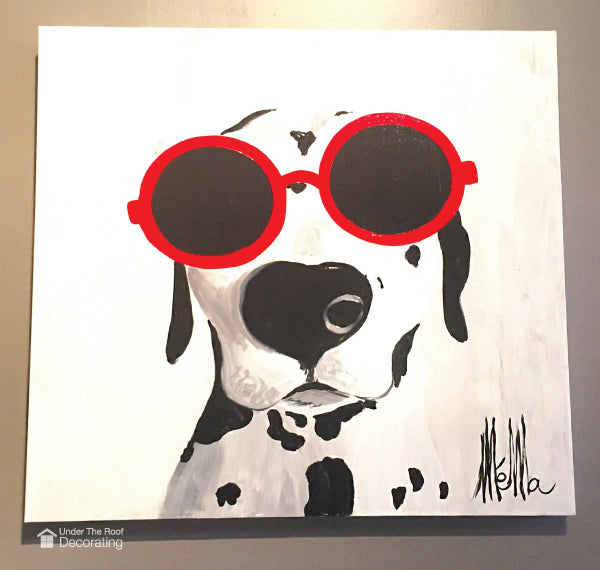 What's hanging on your walls reveals a lot about your personality. These days almost anything goes for wall décor. There are so many options available, you can have fun finding something that expresses who you are. So what do you want your wall décor to say about you? Here are some of my favorite quirky things to get you inspired.
Art with spots
When I saw this large canvas featuring a dalmatian with funky sunglasses, it made me smile so much that I wanted to buy it. I thought it would be a great piece to come home to, and it would make guests feel at ease the moment they walked into our house. Red, black and white is also classic and crisp and would work in many interior design styles.
The wild side
The trend of faux animal heads is still going strong and won't end anytime soon. Many of them are made of papier-mâché and they come in every color and pattern. Depending of the size of your wall, hang one by itself on a pillar, incorporate one in a wall gallery to add a new dimension to a grouping, or hang a few heads together of different sizes to add of touch of whimsy to any space (2 heads are sometimes better than one!).
Sweet Heart
I'm not much of a card player, but I love this huge metal ten of hearts; it's so much fun. It's quite large, so it would fill a big blank wall quite nicely. Can you imagine giving one to a loved one on Valentine Day? At the store, it looked great hung on a white wood plank wall; it gave the space a touch of heartfelt vintage charm.
Flower power
The flower trend goes 3D. These large ceramic beauties would create a colorful eye-catching focal point in any room. They'd add depth and dimensions to any flat wall while creating a spring summery feeling. If you can't have fresh flowers all year around, these could be a good alternative. In addition, flowers make most of us happy and create a vibrant welcoming space.
Unexpected art
I love bikes of any kind, so this bicycle hung on the wall is definitely something I'd do if I had high ceilings and lots of wall space. It's completely unusual, the frame makes it look like it's part the gallery wall. Not only does it look good up high, it's also a great storage solution if you live in a tight space. Functional art.
Next time you walk into someone's home, try to figure out what their walls say about them.  For more surprising and playful wall decorating ideas go to our quirky and whimsical Pinterest board.
What's your favorite look?
Follow us on Instagram for daily photos we post about decorating. See you there!
Liette Tousignant
Co-Founder of Under The Roof Decorating