Pillow Talk: Switch Up Your Home Décor One Pillow Cover At a Time!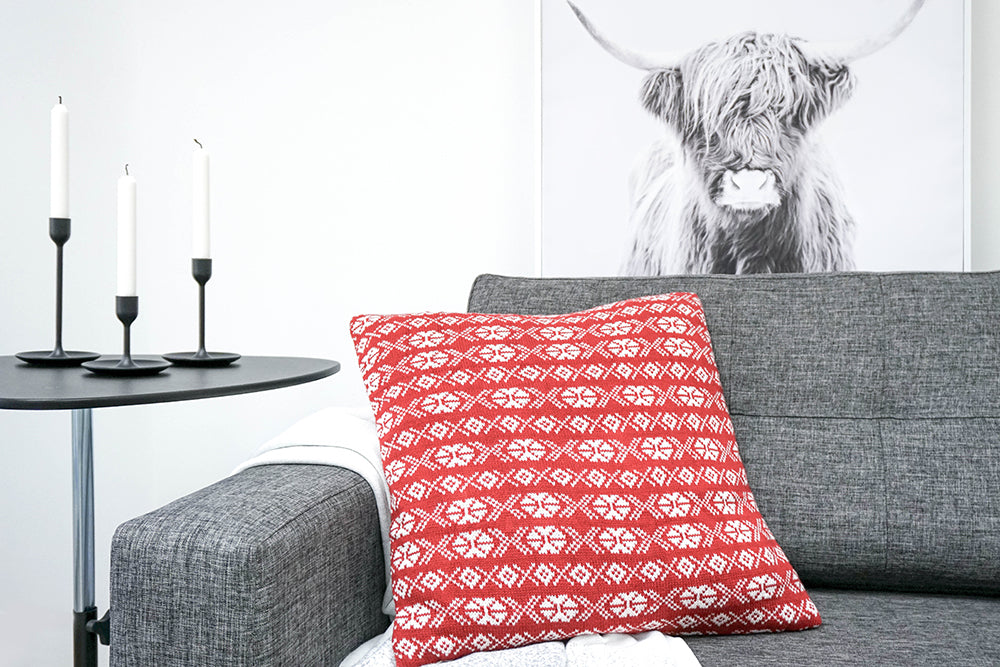 What's your home decorating guilty pleasure?
Ours is pillows. Yes, we're addicts! We have a closet full of pillows for every occasion and season, and yet we can't help but add more! Pillows are an easy and impactful way to switch out décor on a regular basis. Not to mention, they're inexpensive. Who doesn't like a thrifty switch-up?
The only problem with our love for pillows is that they tend to take up a lot of room, so we've found the next best thing: pillow covers! They fold nicely and fit in a drawer, so we can save precious closet space for other important things like clothes.
What's the elephant cushion doing on our couch? That's the pillow that's hiding under the pretty red cover. It sure looks different, doesn't it? 
It only took us seconds to transform our look from safari to holidays simply by wrapping the pillow in a new cover. This XOXO pillow cover instantly changes the look and feel of the room. Not bad considering the cover cost less than $15, much cheaper than buying new pillows.
Advantages of using pillow covers
They're machine-washable: if something gets spilled, no problem, you can wash it.


They take up less room: you can easily store them in a drawer.


They're affordable: cheaper than pillows themselves, so you can change your décor as often as you want without feeling guilty.
Buying inner pillows (the synthetic pillows)
They're soft and pack down well: easy to stuff in pillow covers.


They can be washed: keep them fresh smelling between seasonal looks.


They're inexpensive: reuse them as often as needed.
Note: We have a combination of dense pillows (regular ones) that we've accumulated over the years and a few synthetic ones. Having different shapes of synthetic inners – rectangular or large sizes – allows you to easily change up your space and makes it look like you've put in more effort than you actually did. Since storage can either be your best friend or worst enemy, we've opted for buying more pillow covers rather than the pillows themselves to freshen up our décor.
If you're planning on covering an existing pillow with a pattern, buy a thicker cover, or a darker one that won't show the original pillow's pattern! Be adventurous, play with different textures and colours, and anything goes in the decorating world!
Pro tip: if you have two identical pillows with patterns like these ones above, display one vertically and the other horizontally. It breaks up the patterns, and makes it visually more interesting.
The belly method: How NOT to insert synthetic pillows in covers
The pillow pro method: How to EASILY insert synthetic pillows in covers
Here's what we did
Fold the inner cushion in half.


Hold the sides together and squeeze it into the cover.


Don't release until the entire cushion is inside.


Pat it down, fluff it up, zip it, and you're done.


Ta-da!
Watch this 30 second video below. It's so easy to accomplish and you'll wonder why you've been doing it the hard way all this time!
Pillows are an inexpensive way to add personality to a room without breaking the bank. Switch them out to match the holidays, the weather, or your mood. Whatever makes you happy! If you really want to sophisticate things, just add a throw.
Anyone else a pillow addict like us? We'd love to hear your confessions. What are your decorating guilty pleasures? Share them in the comment box below.
Thanks for dropping by!