Personalize picture frames with chalk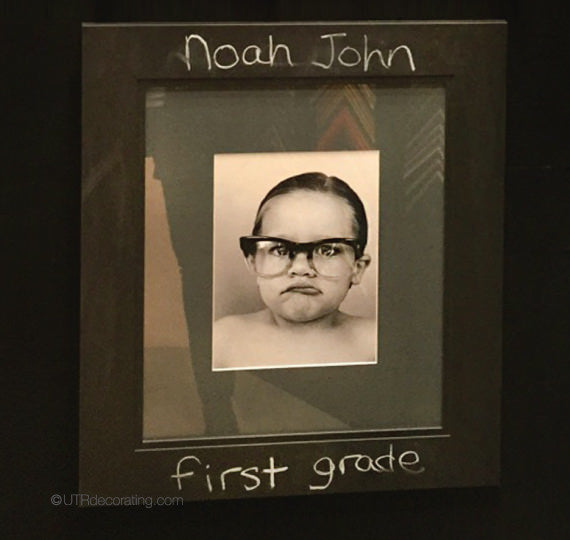 Chalkboards have been a huge trend in home décor in the last few years and now we're seeing trendy frame mouldings that are made with a chalkboard finish.
It's a brilliant idea. These frames allow you to comment on your children's school pictures, kids' artwork, or on anything else you want to frame and personalize with chalk. If you don't feel like writing, simply draw or doodle to create a fun frame design. The best part is that when you're ready for a change you can simply erase it and start over again.
I was introduced to these new frames by Larson-Juhl, a custom framing company that was exhibiting at the West Coast Art & Frame show in Las Vegas. The frames are part of their new collection called "Get crafty with Sketch — a chalkboard finish frame moulding."
If custom framing a piece with chalkboard mouldings is not an option, use chalkboard paint to spray-paint an old wooden frame you already have. Brands such as Krylon and Valspar are quite popular and work really well. The spray is available in black and green and is sold at most DIY stores. To learn how to use spray paint and how to prepare the surface that you want to paint, check this link.
This new trend is all about adding a whimsical touch to picture frames, and is a great way to transform old frames into real conversation pieces for your walls or table tops.
Image credit for the green frame:  Better Homes and Gardens
Liette Tousignant
I'm passionate about picture hanging and decorating (I'm passionate about picture hanging and decorating (and I'm also the Co-Founder of Under The Roof Decorating)