Budget friendly valentine décor ideas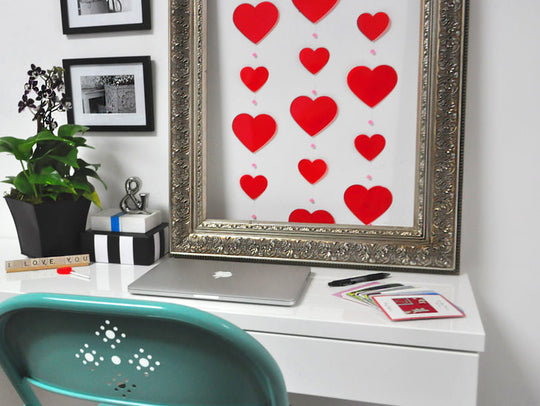 If you're looking for last minute décor inspiration to get your house Valentine ready, here are some easy decorating ideas that will take only minutes to execute. As you can see, I didn't go crazy and paint every room pink or red, instead, I picked inexpensive no fuss items to add a little touch of Valentine's to our space.
Surprise your Valentine with "I love you" spelled out with scrabble tiles and display your message by the front door to welcome your partner. Easy and it doesn't cost anything!
I found the following Valentine-ish decorations at The Dollar Store. I'm always amazed by the treasures I find every time I shop there. I love these hearts hanging on a string; they were only $1.25 each so I bought three and displayed them inside an empty frame. Since the strings are very light in weight, I simply hung them using push pins.  It's a fun, bright and cheerful look that cost very little.
Add a red coffee mug to your work space to create instant Valentine cheer to your office.
Instead of candies, give children a bouquet of colourful Valentine pencils.  Pop them in a clear vase or wine glass like I did here to show off the bright Valentine colors.
Display a little heart-patterned gift bag on a table, work space, or kitchen counter where a touch of Valentine is needed.
If you need more Valentine's Day decorating inspiration, head to our
Pinterest board
where you'll find more pictures, DIY projects and delicious recipes.
Happy (early) Valentine's Day!
Liette Tousignant