Is it OK to hang pictures in a bathroom?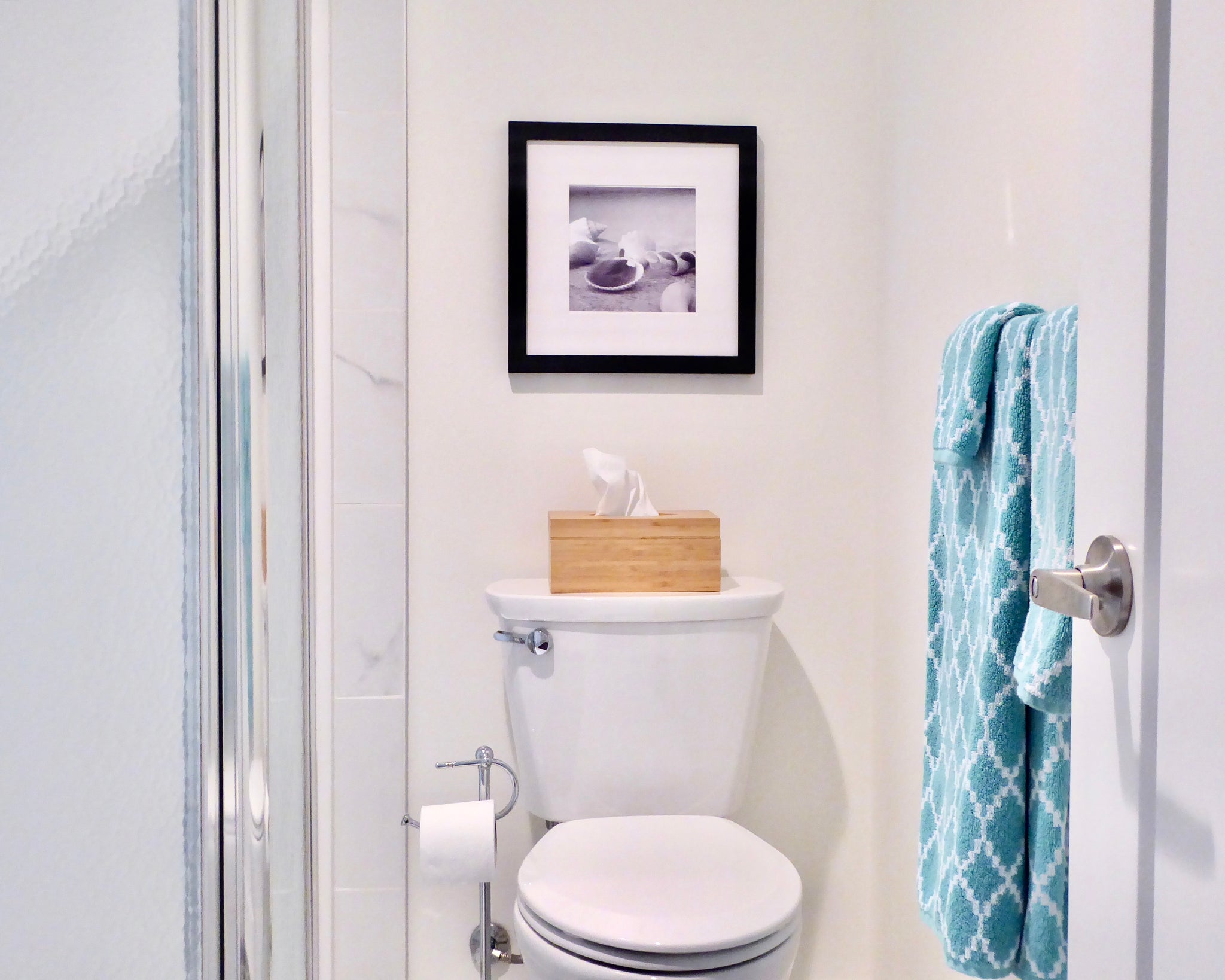 Every room in your house can be beautifully decorated, including the bathroom. Create a focal point by hanging pictures over the bathtub, towel racks or toilet. Here are some tips to get you started:
Above The Tub
If you want your tub to be the centre of attention, hang one large piece above it.

Choose a soothing print that will help you relax when soaking.

Make sure to leave enough wall space between your artwork and tub to avoid any damage from splashing water.
Above The Towel Bar


Display one large piece or a combination of pieces that are at least 2/3 or equivalent to the towel bar's width.

Center your artwork with the towel bar.

Placement is important. Don't hang your art too close to the bar as it could get damaged every time you reach for a towel but don't hang it so high that it's floating on the wall.
Above The Toilet


Choose pieces as wide as the toilet tank to create balance between the two.

A tall vertical piece or a combination of pieces hung in a column will help fill the space.

Leave enough space between the back of the toilet and your art to display some accessories such as: tissues box, folded towels, a basket etc.
Humidity: Art's Worst Enemy: Humidity from hot showers and baths can damage your artwork so choose pieces that can easily be replaced, or are moisture-proof, or are covered with glass.
Use the right hardware
Safety is key when hanging a piece with glass in the bathroom. Be sure it's fastened securely to avoid an accident.

Alternatively, replace the glass in the frame with plexiglass which is more impact resistant.

Place

AnchorPoints™

on the bottom corners of your frame to keep it in place and straight.
Avoid damaging artwork with hairspray or perfume
Use caution when looking in the mirror and using hairspray or perfume. Artwork is often hung opposite the mirror and you don't want to overspray and damage the art that's behind you.
Liette Tousignant
Co-Founder of Under The Roof Decorating