IKEA Table Makeover with Paint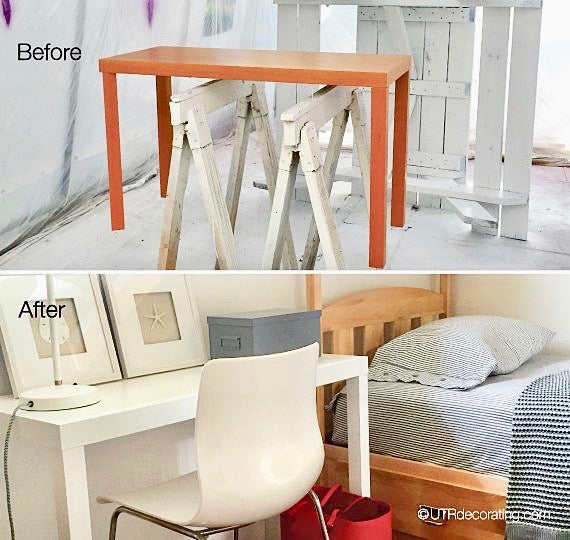 *Written by Liette Tousignant, UTR Decorating Co-Founder
Can you believe it's the same table? I was ready to give away this old IKEA table because it no longer fit in my decor. I'm sure glad I didn't because I'm totally smitten with its new look in white. This is a simple makeover that delivers huge impact while barely spending any money. 
Lucky me, I had two of these orangey coloured tables I bought at IKEA over 15 years ago. They completely clashed with furniture and accessories in my newly renovated cottage so I thought, why not paint them white? 
It's incredible how a couple of coats of white paint completely transformed the tables from dated to modern. They now look crisp and fresh in the all-white cottage. It looks like they were part of the decorating plan all along.
On the picture on the left you can see a tent that we had set up to paint all the interior doors. We took advantage of having the tent to paint the tables too. Once painted, we left them outside for a couple of days to completely dry before bringing them in.
One of the tables is used as a small desk in the bunk room. It's perfect to set a computer on, or just to have a place to charge all the electronic equipment. I keep pens, writing pads, chargers in the grey box to keep things uncluttered.
Table number 2 is in the walkout basement where we have another bunk room (remember it's our cottage), where kids usually camp out. I change the look of the space simply by switching accessories. Depending on who comes to visit – little girls, boys, teens, teenagers, I like to swap out the bedding and decorative items to provide an atmosphere that says "welcome".
The table, just like the one from the other room, is extremely functional. It's used to set down any type of electronics, books, games or our guests' personal items. The pink boxes hide a bunch of office supplies, colorful pens, cards and other small things that are nice to hide.
My advice: try painting furniture before getting rid of it. This simple makeover made me fall in love with my tables all over again, and was definitely cheaper than buying new ones. I'm pretty convinced that these beauties will be with me for another 15 years or more. Lol!
Do you have any furniture makeover secrets you'd like to share? Leave us a note in the comment box below. 
Liette Tousignant
Co-Founder of Under The Roof Decorating