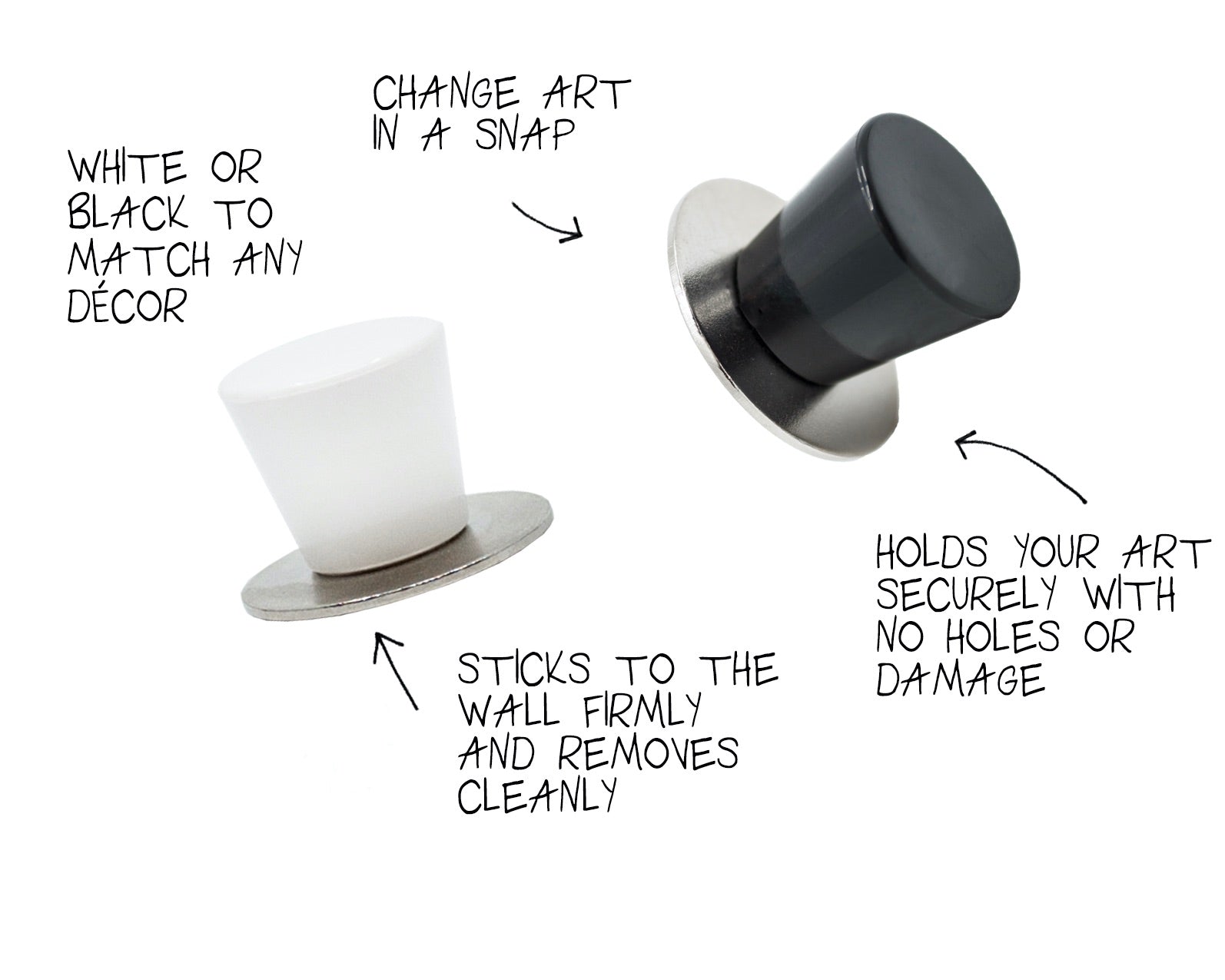 Whether you have posters, kid's art or lists to hang, DécoMagnets™ can be used on any smooth surface without damaging the poster or the wall.
How they work
DécoMagnets are a magnetic hanging system for sheet items like posters, kid's art, lists, and plans. A metal disc fastens to the wall or smooth surface using an adhesive that won't leave any residue when removed. A strong magnet is used to capture the poster between the magnet and the disc. Both the poster and surface will be damage-free! Check out this short demo video.
Quick and easy to use
DécoMagnets are super easy to use. Place what you are hanging between the metal disk and magnet. Remove the protective film from the adhesive on the disk and it's ready for hanging.
Hold the item by the magnets to find the perfect spot to hang it. Press the disc adhesive onto the surface while still holding onto the magnets—and you're done. Whether you are decorating or organizing, DécoMagnets have you covered at home, school or work.
Exchange art or remove with no damage
When it's time for a change, you can switch out the art for something new by taking off the magnets and removing the poster, adding the new item and replacing the magnets to hold it in place. Easy!
Included is a removal tool to help lift the discs from the wall, when it's time to move them. The disc adhesive removes cleanly without leaving any residue.
Comes in two colors
DécoMagnets come in black or white to fit with any poster color or décor style. Check out this blog for more decorating ideas using DécoMagnets.

We love designing products to make decorating easy. Do you have any decorating questions for us? Click on the live chat below or email us at: questions@utrdecorating.com, and we'll do our best to help you Create the home you love™

-The UTR Team