How to hang two pictures side-by-side above a desk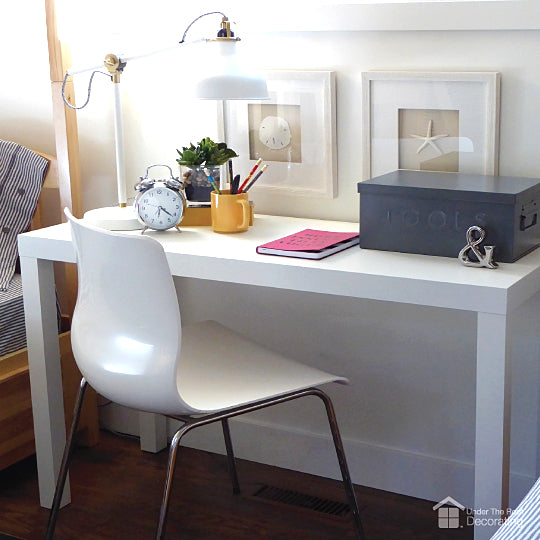 When choosing art for your home, consider the shape of your walls and place pieces to fit the space. Here, the short, wide space between the window and table is perfect to display anything horizontal in shape. Since I didn't have a single landscape sized piece, I hung two small pictures horizontally.
First, place your furniture exactly where you want before you start hammering nails in your wall. Take all the accessories off the table to avoid they get in the way when hanging your pieces. 
Set the frames on the table and play with the distance between them to determine the right amount of wall space to leave.
Note that I didn't hang the frames right in the middle of the wall space. I hung them only a few inches away from the table top in order to connect the frames and table together.
I used Hang & Level to hang the pictures. It made it easy to find the right location for the nails and to hang them perfectly levelled to each other.  Since the small frames were fitted with sawtooth hooks, I used Déco Nails to safely secure them to the wall.
Once the frames are up, place your accessories and you're done.  If you're displaying a lamp like I did, don't worry if it partly covers the art, it's a stylish way to accessorize a desk.
Since this bedroom is in a cottage, I chose cream coloured seashell frames to fit in the summer beach style I was looking for.
When hanging things up, just remember that like attracts like. A wide horizontal wall is perfect to showcase a landscape piece or a group of smaller frames grouped together horizontally. On the other hand, a tall skinny wall is the ideal spot to display a tall piece or a group of smaller pieces.