How to hang pictures vertically with Hang & Level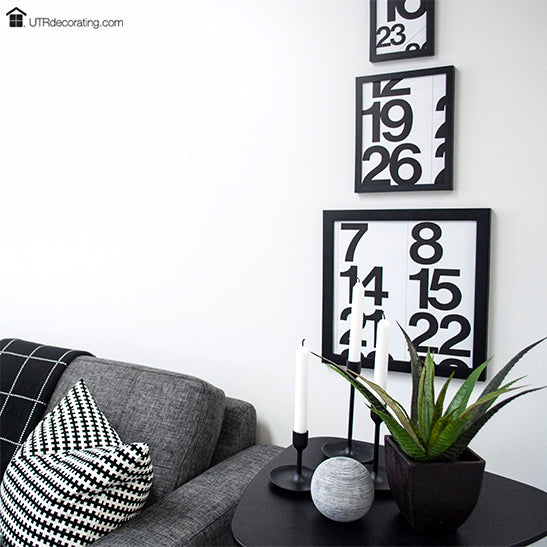 Ok, let's be honest, how long would it take you to hang 3 pictures in a perfect column like you see in this photo? Probably 15 minutes, maybe less, maybe more. Right? What if I told you you could do it in less than 5 minutes? I'm not kidding, that's exactly how long it look me to hang these 3 frames when we filmed this video. Watch!
How I did it:
I hung the bottom frame first so that the handle of the Hang & Level tool didn't interfere when hanging the picture above. If I had started from the top, I wouldn't have been able to use the tool to hang the middle one or the last one. Check out the video to see what I mean.
Next, I hung the middle one which I centered with the bottom frame.
Lastly, I hung the top frame which I centered with the one below.
In a nutshell, I hung my frames so their centres would line up with each other.
Before getting started, I decided to leave approximately 2 inches between each frame, just enough space for the white wall to peak through between each one. I didn't have to measure, it was easy to keep the spacing even with the tool.
How high did I hang my display?
My goal when decorating the wall was to visually anchor the small table with the art. I tried hanging the bottom frame higher up, but it looked like it was floating away instead of being connected to it. For measurement maniacs out there, the bottom frame is hung 5 inches from the table. I hate to break it to you, but there's no one-rule-fits-all approach when hanging pictures – it's all about trial and error. Darn! 
The tools I used:
I used my Hang & Level, a hammer and Déco Nails. That's all I needed!
If you have tall and narrow walls in your house (you know, the ones usually found between windows in a living room or next to a powder room and at the end of a long hallway), these spaces don't need to go undecorated. So go ahead and jazz them up! Hang artwork or even mirrors to reflect the daylight and give the illusion of a larger space.
Anyhoo, if you're ever challenged by a skinny wall, I'm sure you'll remember this post. Oui?
Here's another article you might find interesting that I wrote about hanging pictures in a column:
The shape of a wall dictates what size of art to hang
You know the rule, leave your comments in the box below if you want to talk about this post.
Thanks for dropping by!
Liette Tousignant
Co-Founder of Under The Roof Decorating