How to hang canvas art above a dresser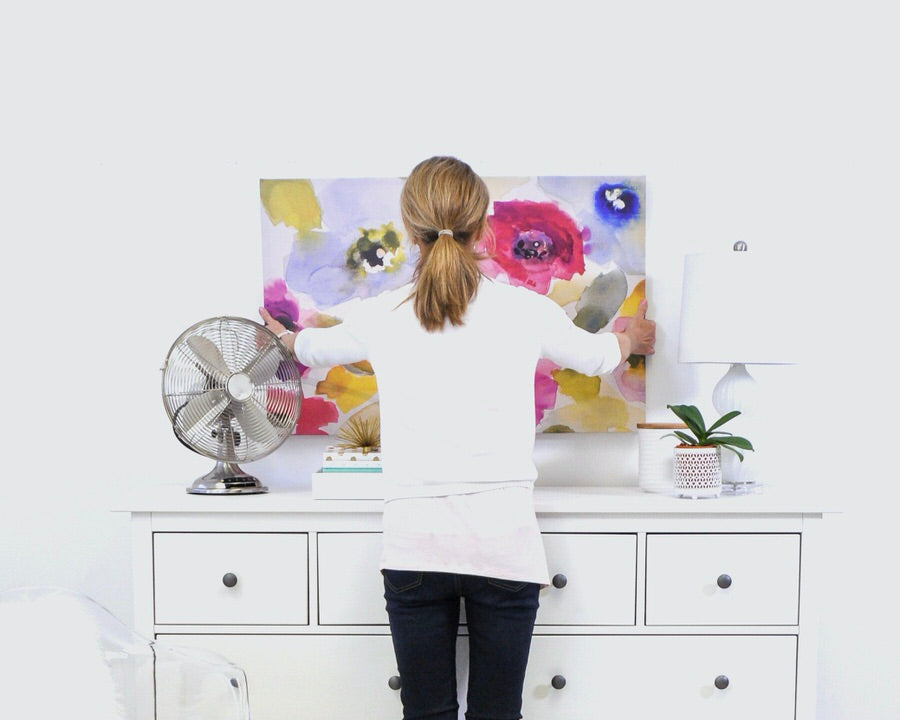 Hanging art above a dresser can be a little more involved than other furniture  because it often includes accessories such as lamps, clocks, frames or other décor, which influence styling. Here are a few tips to help you hang a canvas securely and at the right height for a professional look.
Anchor art with furniture
Even though decorating reflects personal style and preferences, there are a few guidelines that help create a pleasing aesthetic when hanging art above furniture. 
Select a single item or grouping of art that is about two thirds of the length of your dresser, and center it above the furniture. Hang the art about 4 - 8" above the dresser so the two pieces are visually connected. The exact height will be influenced by the accessories used on the furniture.
Select accessories in advance
It's a good idea to identify the accessories to be used on the dresser before selecting the hanging height of the art. Depending on how high you hang the art, the accessories will look smaller or larger and can obstruct the view of the art.

The gap you have between the dresser and bottom of the art will vary based on how the accessories appear on the dresser at different hanging heights for the art. Below are three looks we tried before settling on a 5 ½" gap between the dresser and bottom of the canvas, because it feels airy and the accessories and canvas are seen. 
We included an option of leaning the canvas on the dresser. This can work well as the canvas generally won't slide on the surface, and you'll avoid making any holes in the wall. Again, good decorating reflects your own style—so choose what looks best to you. Here is our final result.
Best way to hang canvas
Canvas is often sold without any hanging hardware, and hanging it by the frame is not secure and can warp the frame over time. You can add picture wire, D-ring or sawtooth hangers to a canvas, but we prefer using CanvasHangers™, a product we designed to make hanging canvas art quick, easy and secure. They are simple to use and you get a secure hold that sits flush against the wall and never moves, even in high traffic areas. Check out this blog How to use CanvasHangers to learn more.
We love designing products to make decorating easy. Click on the live chat below or email us at: questions@utrdecorating.com, and we'll do our best to help you Create the home you love™

-The UTR Team