How to Hang a Large Floor Mirror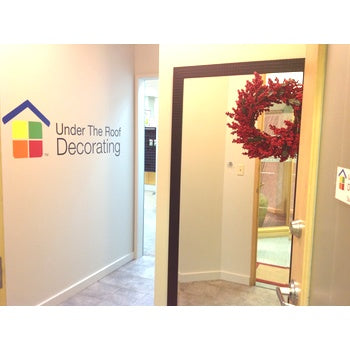 Large floor mirrors offer a great way to enlarge a small space, since they reflect daylight and they're relatively inexpensive compared to other decorative accessories for your walls. We had a challenge at our own UTR office, as the back entry is fairly narrow and small.
We solved the feeling of being too cramped in that area by hanging a floor mirror to give the illusion of a larger space. Although leaning a mirror against the wall is quite trendy and we love the look, it wasn't an option for us since the space is so small and is very high traffic, meaning a leaning mirror simply wouldn't be safe.
Here's how we hung our mirror:
We set the mirror on a 9″ stool, which lifted it high enough from the floor to give us the perfect hanging height. Everyone at the office could see their entire body, including the guys who are 6'3" or even taller.
I found the center of the wall and the mirror and lined them up to ensure the mirror would be perfectly centered on the wall.
With the mirror still resting on the stool, I hung the D-ring on the left side of the mirror onto the single button of Hang & Level.
The tool was placed at an angle and worked perfectly to mark the spot for the location of our first screw. 
I did the same thing on the other side: using Hang & Level I marked the spot for the second screw while the mirror was still resting on the foot stool.
I then removed the mirror from its location so I could place the screws. 
We used Déco Screws

, which are a super strong screw and anchor in one that can hold up to 30 lbs. Our mirror weighed 20 lbs, making the screws more than adequate.  
I then had someone help me hang the mirror by placing the D-rings on the screws. I used a small level to make sure it was hanging perfectly straight before putting my tools away.
Ta da! Done! We love the look. In addition to enlarging the space it gives us (and our guests) the chance check ourselves out when entering or leaving the office.
If you have any questions regarding this post or any other picture hanging questions, feel free to ask — I always love to help!
Liette Tousignant
I'm passionate about picture hanging and decorating (and I'm also the Co-Founder of Under The Roof Decorating)
Reviews (1 comment)