How to Hang a Large Canvas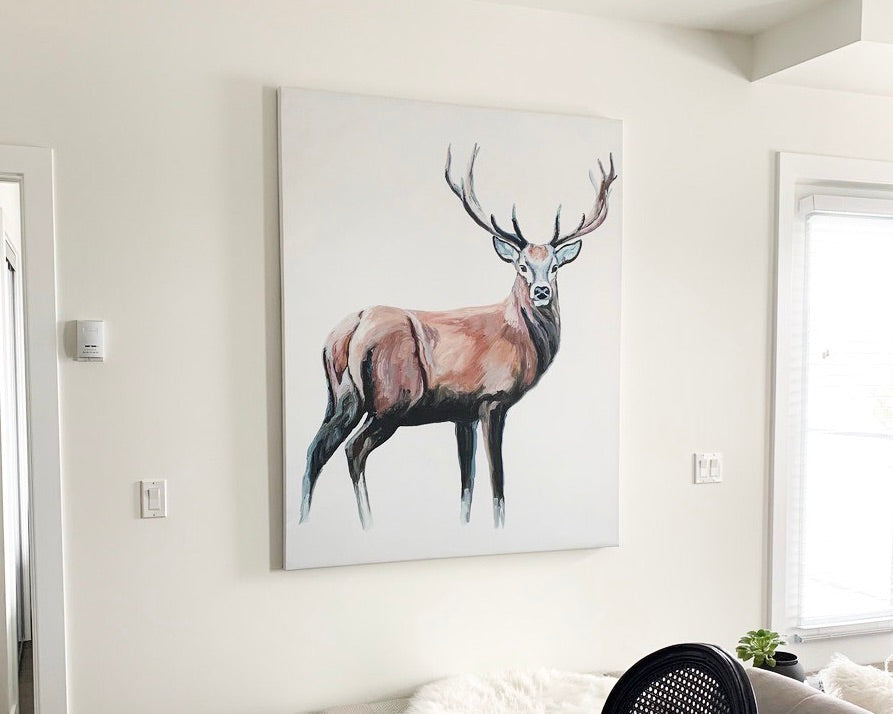 When you buy a canvas it rarely comes with any hanging hardware. Many people mistakenly believe that means it's OK to hang it by the frame. Not so! A canvas hung by the frame can easily fall off the wall, and can cause the frame to warp. So, we invented a new way to hang canvas. Meet CanvasHangers™.
 A CanvasHanger is a small white hanger that fits into the top corners of a canvas. Place one in each top corner and secure it by hammering the outer pins into the frame, then place your canvas on the wall and push it in. That's it! Watch this video to see how easy it is to use.
CanvasHangers work with any size of canvas, big or small, and can hold up to 20 lbs. Considering most canvases are well under 5 lbs, they can hold a very large one without any worries.
Here's how we hung this large canvas in our dining room area:

1. Find the middle point between the two doors. That's the centre.
2. Mark the centre with a piece of painter's tape.
3. Center the canvas with the centre marked on the wall.
4. Use a stool if needed to get to the right height.
5. Level the canvas and then push the top corners into the wall to hang it.
A large canvas can be awkward to hang if it's as wide as your arms can spread open, but we didn't have any problems getting this one on the wall at all. Once it is in the right place, push one corner into the wall first, and then shift over to the other corner and push that side in. With a large canvas this is easier than trying to push both corners at the same time.
Look at how flush the canvas hangs against the wall. It creates a clean, seamless look. If you're hanging your canvas in a hallway where it'll be seen from the sides – getting that flush look matters.
Since it hangs from  two brackets in the top corners they keep the canvas from moving. Even though the hallway is quite a busy traffic area, our canvas will always stay straight.

We love decorating with canvases because they're inexpensive; you can get very large ones to fill a large wall without spending much money. There's also plenty of choice available at home stores, so you're guaranteed to find one to match your décor style.
CanvasHangers can be purchased directly from our online store or at your favorite Target, Lowe's or Home Depot store.

We love designing products to make decorating easy. Click on the live chat below or email us at: questions@utrdecorating.com, and we'll do our best to help you Create the home you love™

-The UTR Team