How to hang a heavy picture in drywall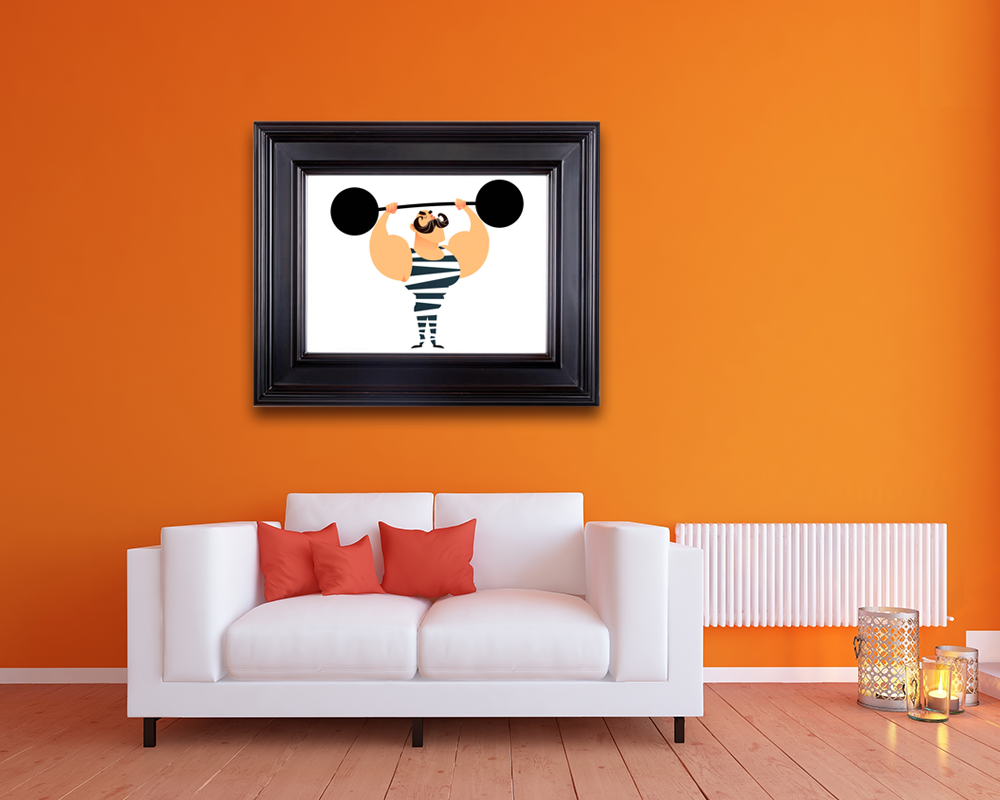 Some of us were taught that you always had to hang pictures using a wall stud, especially for heavy wall décor. But with the right tools and hangers, you don't need to limit yourself to figuring out where those studs are. This gives you the freedom to decorate your walls how you want them to be. At UTR Decorating, we've designed some tools and hangers to make hanging heavy items up to 30 lbs quick and easy.
DécoScrews™ - a screw and an anchor in one 
We designed our DécoScrews to be the easiest way to secure artwork up to 30 lbs in drywall. The patented design incorporates all of the features and benefits of a separate screw and wall anchor into one part. The cone shaped shank ensures that all of the threads are embedded in fresh drywall for a superior hold. There is no need to drill a hole in the wall and the screws can be installed with a standard Phillips or flathead screwdriver.  
For items that weigh more than 30 pounds (14 kg), or for particularly delicate or valuable items, you may want to consider using a more traditional approach with a separate wall anchor and screw combination rated for the weight of your piece. 
DécoHooks™ - no tools needed 
If you are looking for a secure hanger that doesn't require any tools to install in drywall, consider our DécoHooks. They are stronger than using just a nail, because the tail of the hook presses into the back of the drywall, which increases the holding strength of the head. DécoHooks come in two sizes that can hold - 20 lbs and 40 lbs, select the size that's right for your item. Watch the DécoHooks YouTube playlist to see how easy they are to use.
Patented heads - designed to grip wall décor
You'll see that the heads of DécoScrews and DécoHooks have a unique shape that is different from a regular nail or screw. Our patented heads are made to securely grip the hanging hardware typically found on wall décor items, such as picture wire, D-rings, sawtooth hooks and keyhole hangers. In addition, the skirt of the heads lay flush against the wall and helps to distribute the weight of the item across a larger surface, reducing any movement or damage to your wall to a minimum.
How heavy is my décor?
A lot of wall décor is quite a bit lighter than we imagine. Naturally it depends on the size of the item and the thickness and material of the frame, but as you can see from the diagram above the majority of items are under 20 lbs (9 kg). Keep the weight of your item in mind when selecting a hanger, and if you are in doubt, select a hanger that will hold more than you think the item weighs.
Mark exactly where to put the fastener
If you are looking for a quick and easy way to determine where to install your DécoScrew or DécoHook, consider using our Hang & Level™ picture hanging tool. 
Hang & Level is easy to use: Put your picture on the tool. Take the tool and the picture to the wall and try locations until you find the spot where you want the picture to hang. Remove the picture while keeping the tool on the wall and use the button to mark exactly where to install the fastener. This tool is really handy when you want to hang multiple pieces together, making it fast and easy to hang a gallery wall. Read our blog on how to use Hang & Level to hang three pictures.
We love designing products to make decorating easy and help people create spaces that bring them joy. Click on the live chat below or email us at: questions@utrdecorating.com, and we'll do our best to help you Create the home you love™
-The UTR Team