How to hang a heavy clock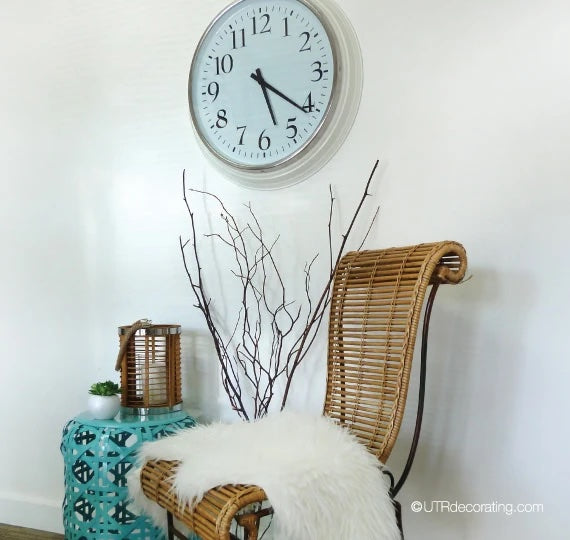 I love decorating with large clocks. In addition to keeping time, they're a fun and affordable way to decorate a wall. The challenge with hanging large clocks is to figure out how to deal with the large keyholes they're often fitted with and to choose the right hanging hardware to use to safely secure them to the wall.
Sometimes, it's all about owning the right tools to get the job done and in this case Hang & Level made it a breeze to hang this large IKEA clock on my wall. Here's what I did:
First, decide on the best spot to hang your clock. With my furniture in place I found that it looked best close enough to the chair so that they felt connected, but was high enough for people to be able to see the time from a distance.
I used the single button on Hang & Level to hang it.  This made it super easy to fit into the large key hole, which allowed me to move the clock up and down the wall to find the perfect spot. For added security, always hold the bottom of your clock with your other hand to avoid any risk of it crashing to the floor.
Once I found the right place on the wall, I removed the clock from Hang & Level and pressed on the button to mark the exact location for the screw.
I used our Déco Screw (a screw and anchor in one) to hang the clock. The screw fit perfectly in the large keyhole and its head shape prevents the clock from slipping off. The screw can hold up to 30 lbs and the clock only weighs 8 lbs, so it's safe to use.
Drive the screw into the mark.
Hang the clock on the screw. This was the most challenging part because of the clock's large and awkward size. Once the clock is up, place your chair, arrange the accessories and voilà, you're done!
About the clock:
Available at IKEA for $49.99
Batteries are not included — you'll need to get an AA battery
The clock weighs 8 lbs and is made of steel and glass
Oops, time to go!
Do you have any tips or tricks on how to safely hang clocks?
Liette Tousignant